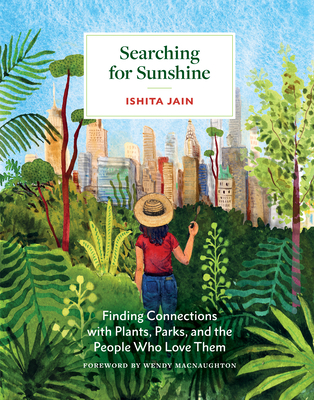 Searching for Sunshine
Finding Connections with Plants, Parks, and the People Who Love Them
Hardcover

* Individual store prices may vary.
Description
An illustrated, heartfelt journey into answering the simple but vital question, "Why do plants and green spaces make us happy?"

When Ishita Jain relocated to the visually overwhelming and concrete-filled New York City from New Delhi, India, she found solace in parks and gardens and started thinking about how important these places are to city residents' sense of peace. In Searching for Sunshine, Jain follows her curiosity and creativity to provide a vibrant compilation of essays, illustrations, and interviews centered around the simple yet compelling theme of why and how plants and green spaces create such meaning for us.

Whether living in a setting that is urban, rural, or somewhere in between, everyone can find enjoyment in the beautiful illustrations and stories gathered here. Featuring conversations with experts and plant-lovers alike, including scientists at the New York Botanical Gardens, groundskeepers at the famed Green-Wood Cemetery, shoppers at the beloved Union Square Greenmarket, a director of NYC Parklands, a florist, and more, Jain's exploration of plants and parks in New York City demonstrates how nature is vital to all experiences of our lives.
Praise For Searching for Sunshine: Finding Connections with Plants, Parks, and the People Who Love Them…
"This book gave me the reminder I need—that even in a city of concrete, we can all find ways to connect with plants and get our hands dirty. For me, a New Yorker, tree-hugger, people-person, and art-appreciator, this book is everything I love, all in one."
– Julia Rothman, illustrator of the Scratch column, The New York Times

"Searching for Sunshine is an environmental delight. It's a reminder of the interconnectedness of the land and all living organisms on earth—and the beauty of exploring our own connections to what made us fall in love with all that Mother Earth has to offer."
– Leah Thomas, author of The Intersectional Environmentalist
Chronicle PA Press, 9781797222493, 224pp.
Publication Date: April 11, 2023
About the Author
Ishita Jain is an illustrator in New York City, originally hailing from New Delhi. She is an alumnus of the National Institute of Design, Ahmedabad, and received an MFA from the School of Visual Arts, New York. She loves to draw on location and enjoys documenting the people, places, and stories that surround her. She writes and draws books for adults and children and her illustrations have appeared in the New York Times as well as in campaigns with Sephora and Link NYC.