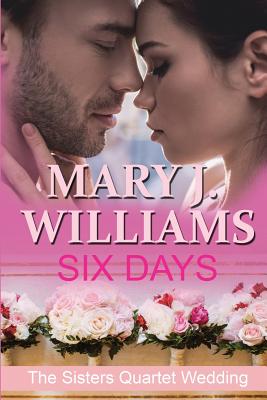 Six Days (Paperback)
A Sisters Quartet Wedding
Independently Published, 9781797655277, 220pp.
Publication Date: February 20, 2019
* Individual store prices may vary.
Description
Most men would run from a woman with a gun.

Not me. I wanted her the moment I saw her.

To make her mine, I must learn two things.

First? Her secrets.

Second? When to duck.

Lincoln James knew the moment he laid eyes on Dee she was different from any woman he'd ever met. Sure, she was beautiful and sexy. Also, fierce, snarky, and completely uninterested in anything he had to offer.

Dee Wakefield had Lincoln figured out the second she saw him. A pretty boy athlete with the world at his feet, he thought all he had to do was smile and she would melt like every woman before her. Wrong Dee built a protective wall around her emotions out of necessity, and she wasn't about to let anyone in. Especially not a charmer like Lincoln James.

Linc knows Dee is the only woman for him. He's in for the fight of his life. However, he learned long ago nothing worth having ever comes easy.

Grab your copy of this standalone Sisters Quartet novel today
Grab this standalone novel today.