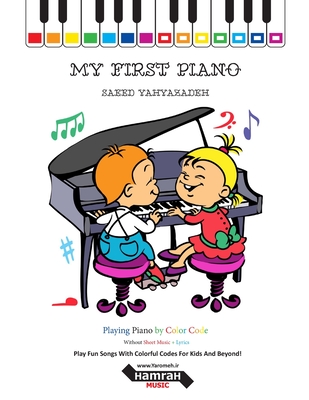 My First Piano
Play Fun Songs With Colorful Codes For Kids And Beyond!
Paperback

* Individual store prices may vary.
Description
Play Fun Songs With Colorful Codes For Kids And Beyond
This method is a way of knowing the young artist with his musical instrument and his growing confidence in playing it. You can also use it for students who write cursory notes and are desperate. In this method I created had to be as simple as possible in order to get the student playing the piano immediately. This book is method of playing the piano that does not require music theory.
You only need to know the color of each key on the piano. This step by step course is designed for quickly teaches the student to play songs they will know and love. Song arrangements were carefully selected to provide an easy transition from learning the basics to covering more interesting rhythms, techniques, and musical ideas.
Rainbowtonic is the style for coloring the music notes. This is describes a method to raise a young child's interest in piano learning. I will explore many popular songs with colors and symbols. Everyone can play these songs on any piano and keyboard with the color piano chart. This method for playing the piano will spark interest in learning at any age and you will enjoy playing the piano by colors.
List Of Songs
Hey Hey Look At Me
Hot Cross Buns
Cuckoo Where Are You
Mary Had A Little Lamb
Largo (New World Symphony)
Good King Wenceslas
Do Re Mi Fa Sol
Ode To Joy
Au Clair de la Lune
Go Tell Aunt Rhody
Dodo l'enfant do
Lightly Row
London Bridge
Ring Around The Rosie
This Old Man
Twinkle, Twinkle
Jingle Bells
Happy
Frog in the Meadow
Donkeys Love Carrots
Good Morning Honey
C MAJOR SCALE
Tavalodet Mobarak (Persian Happy Birthday)
Hush Little Baby
Row Row Row Your Boat
Lullaby and Goodnight
The Wheels on the Bus
The Farmer in the Dell
Sweetly Sings the Donkey
My Beautiful Doll
Happy Birthday
I'm a Little Teapot
Amazing Grace
Hickory Dickory Dock
Brother John (2Hands)
The Muffin Man (2Hands)
Old Macdonald (2Hands)
Yankee Doodle (2Hands)
Twinkle, Twinkle (2Hands)
Black Cats (2Hands)
Independently Published, 9781799128557, 50pp.
Publication Date: March 23, 2019