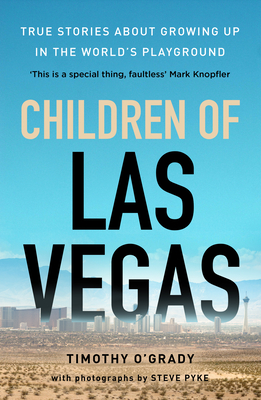 Children of Las Vegas
True Stories about Growing Up in the World's Playground
Paperback

* Individual store prices may vary.
Description
Visit a place where your accent is an aphrodisiac, invites a Las Vegas tourist board ad on the London Underground. Just the right amount of wrong, offers another from The Cosmopolitan Hotel. Clearly, it works. Over forty million people a year travel to Vegas, more than to Mecca. It is a global celebrity, an improbable oasis, a place offering bank-breaking fortunes and instant gratification, 24/7, with no moral debits. Start planning the vacation you won't write home about. What happens in Vegas stays in Vegas.
Award-winning writer Timothy O'Grady lived in Vegas for two years. He finally began to understand it when he talked to people who had grown up there, the children of the card dealers and cocktail shakers, the jugglers and the dancers, young people who had been bearing witness to their strange city all their lives. One had her student loans and credit card limits stolen by her father. Another fled a sequence of exploiters until she found herself living in the storm drains under the casinos. There is the boy whose father entered him into a drinking contest when he was eight, the casino owner's son, the erudite contortionist turned stripper. Each tells their own tale.
O'Grady here renews his partnership with renowned photographer Steve Pyke. Through short essays, Pyke's portraits and ten witness testimonies, he pierces the city's glittering fa ade. Children of Las Vegas shows us what we can expect to find when the global marketplace has found the addiction genes in us all. It is a book of broken dreams, but also of an extraordinary striving for transcendence.
Unbound, 9781800181380, 176pp.
Publication Date: August 9, 2022
About the Author
Timothy O'Grady was born in Chicago and has lived in Ireland, London, Spain and Poland. He went to Las Vegas after receiving a fellowship from the Black Mountain Institute and stayed on for another year to teach. That is when he met the 'children of Las Vegas' whose stories appear in this book. He is the author of three novels, Motherland, I Could Read the Sky and Light, and three works of non-fiction, Curious Journey, On Golf and, most recently, Divine Magnetic Lands. Children of Las Vegas is his second collaboration with photographer Steve Pyke. Steve Pyke is considered one of the leading portrait photographers in the world. His work, including the series Philosophers and Astronauts, has been exhibited worldwide. He has published nine books, and for the past forty years he has worked consistently on a series collecting the 'Faces of Our Time'. In 2004 Steve received the MBE in the Queen's New Year Honours list for his services to the Arts, and in 2006 he was made a Friend of the Royal Photographic Society. He lives in New Orleans.