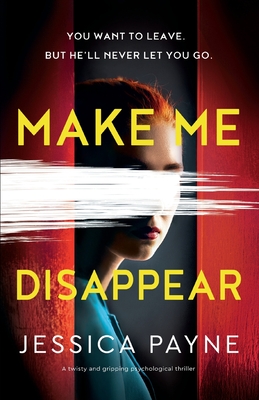 Make Me Disappear
A twisty and gripping psychological thriller
Paperback

* Individual store prices may vary.
Description
By the time I realized the truth about Daniel it was too late. But the truth about me? He never saw that coming...
Dr Daniel Ashcroft was perfect: handsome, romantic, protective. I thought I was so lucky.
But then I heard the rumors about his previous girlfriend, that she had vanished without a trace. That's when I found the cameras in my apartment.
I was trapped. Daniel made it clear I couldn't leave him, not without risking everyone I loved. I had to disappear, so I arranged my own kidnapping.
I should have known Daniel would never let me get away that easily. But he could never have predicted what I'd do next...
Make Me Disappear is a brilliantly twisty psychological thriller guaranteed to keep you up all night. Fans of The Wife Between Us, Gone Girl and The Couple Next Door will find it impossible to put down.
What readers are saying about Make Me Disappear:
'Everything you want in a twisty psychological thriller. I couldn't turn the pages of this highly addictive debut fast enough.' Jeneva Rose, internationally bestselling author of The Perfect Marriage, ⭐⭐⭐⭐⭐
'A brilliant debut Gripping, fast-paced, and twisted... An absolute page-turner right up until the thrilling and shocking end.' Mary Keliikoa, author of the Kelly Pruett mystery series, ⭐⭐⭐⭐⭐
'Wow I am left speechless by this book... Had me on edge the ENTIRE time... I could not put this book down... I'll be coming back for more... Wonderful ' Goodreads reviewer, ⭐⭐⭐⭐⭐
Bookouture, 9781803142630, 370pp.
Publication Date: May 16, 2022