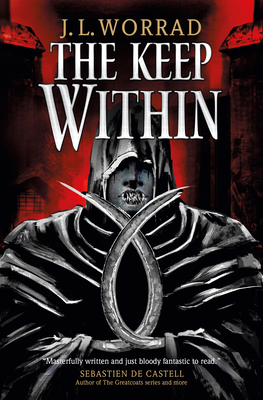 The Keep Within
Paperback

* Individual store prices may vary.
Description
Packed with unforgettable characters, sharp wits, and wild plots, a bastard noble with dreams of the theatre and the ruthless first-queen are both caught up in a tangled web of murder and court intrigue in this savagely funny dark fantasy.

When Sir Harrance 'Harry' Larksdale, bastard brother of the king, falls for a mysterious lad from the mountains, he is unwillingly caught up in a chaotic world of court intrigue and murderous folk tales. Meanwhile Queen Carmotta Il'Lunadella, First-Queen of the Brintland, needs to save her life and her unborn child. With the Third-Queen plotting against her, and rumours of coups rocking the court, Carmotta can rely only on her devious mind and venomous wit.

But deep within the walls of Becken Keep squats the keep-within – patient, timeless, and evil. To speak of the keep-within outside the walls of Becken Keep guarantees your bizarre and agonising demise within nine days. All the while, people fearfully whisper the name Red Marie: a bloodied demon with rusted nails for teeth and swinging scythes who preys on the innocent.

Harry and Carmotta are clinging to their dreams, their lives, by threads. And, beneath all, the keep-within awaits.
Praise For The Keep Within…
Praise for The Keep Within

"Full of dark intrigues, wonderfully layered characters, and a dazzling plot that twists and turns in satisfying ways, this book is masterfully written and just bloody fantastic to read."—Sebastien de Castell, award-winning author of The Greatcoats and Spellslinger series


"A cartful of courtly intrigue, a menagerie of plots within schemes, and a massive dose of debauchery. All tied up in JL Worrad's effortless way of making a world feel real and lived in."—Rob J. Hayes, award-winning author of The Mortal Techniques and The War Eternal series

"The Keep Within is excellent from start to finish. Great characters, rich intrigue, full of twists, turns and some delightfully dark moments. And it's funny! I loved it."—Peter Newman, award-winning author of The Vagrant and Deathless series

"A gloriously gory Jacobean romp with a festive setting and twists that keep coming right to the end."—Dr. Fiona Moore, author of 'Management Lessons from Game of Thrones: Organization Theory and Strategy in Westeros'

"Another riotous triumph."—Edward Cox, author of The Relic Guild series and "The Wood Bee Queen"


Praise for Pennyblade


"'Pennyblade' doesn't so much reinvent well-worn fantasy tropes as stab them to death in a dark alley. Kyra Cal'Adra is a lethally alluring protagonist weaving an intricate tale rich in ferocious action and multifaceted intrigue, all topped off by a deliciously vicious twist." – Anthony Ryan, author of "Blood Song", "The Wolf's Call" and more 


"A violent, and wildly imaginative, riot of a book." – R. J. Barker, author of "Age of Assassins" and "The Bone Ships"


"The changeling offspring of Jorg Ancrath and Phèdre nó Delaunay. Filthy, furious, wonderful."– Anna Smith-Spark, author of "The Court of Broken Knives"


"Provocative and decadent, crude and funny, and an altogether entertaining fantasy adventure." — Edward Cox, author of The Relic Guild series


"The most fresh and original take on a classic fantasy species I've read since 'The Grey Bastards'. A fun, blood and sex-fueled adventure with a knockout cast of characters, and a surprisingly bitter-sweet love story at its core. I enjoyed the hell out of it!" — Rob Hayes, author of The Mortal Techniques and The War Eternal series


"A fantasy adventure full of violence, passion, chaos and betrayal." — Emerald Archer
Titan Books, 9781803362977, 496pp.
Publication Date: March 28, 2023
About the Author
J. L. Worrad lives in Leicester, England, and has for almost all his life. He has a degree in classical studies from Lampeter University, Wales. In 2011 Worrad attended Clarion, the prestigious six-week SF workshop held at the University of California, San Diego. There, he studied under some of the genre's leading professional. 2018 saw the publication of his first space opera duology 'Feral Space'. He's had short stories published by Daily Science Fiction, Flurb, Newcon Press and Obverse Books. He also writes screen plays for short films, one of which- Flawless was selected for both the Cannes and NYC Independent film festivals.