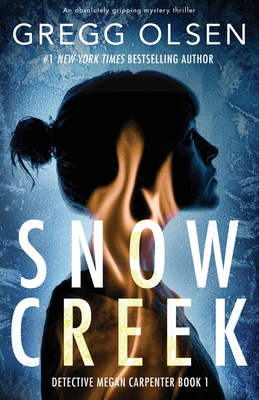 Snow Creek
An absolutely gripping mystery thriller
Paperback

* Individual store prices may vary.
Other Editions of This Title:
Paperback (8/17/2021)
Description
Footprints were scattered about like fallen leaves. She looked down into the ravine, and once more her lungs filled with fear. A body, blackened and motionless lay splayed out in the bushes.

Detective Megan Carpenter is no stranger to evil. Escaping the horrors of her old life, she's vowed never to let anyone hurt her or those she loves ever again. Joining the small police force in Jefferson County's Port Townsend, Megan is determined to get every victim of a crime the justice they deserve.

So when Ruth Turner walks into the Sheriff's office claiming her sister Ida Watson has been missing for over a month, Megan's instincts tell her that she needs to do more than just file a report.

Arriving at a secluded farmhouse in the hills above Snow Creek, she finds Ida's teenage children alone and frightened.

Then a few days later, close to the Watsons' home, the blackened body of a woman is discovered in an abandoned pickup truck.

Megan must unravel the disturbing secrets of the isolated Snow Creek community if she is to catch the killer.

But Megan has dark secrets of her own too...

Hidden in the back of her closet is a box of tapes containing every single recording of her therapy sessions with Doctor Albright over thirteen years ago. As Megan begins to play the tapes, she's taken straight back to her terrifying childhood, back to the time she was a kid called Rylee, fighting to survive.

Can Megan finally confront the past she's spent years trying to block out and will listening to her own painful story help her solve the complex case she is now entangled in?

From the Number One New York Times and Amazon Charts bestselling author, comes an absolutely heart-stopping and completely unputdownable crime series, introducing Detective Megan Carpenter.

Read what everyone is saying about Snow Creek

'Holy cr*p what a complete stunner of a read this is. It had everything, sensational, creepy, addictive with a stunningly complex plot from beginning to end and I loved. loved, loved it ...So this is going to rate as one my best reads of the year.' Goodreads Reviewer, ⭐⭐⭐⭐⭐

'OMG Wow. I loved this book ...it was amazing I can't wait to read more It kept me on the edge of my seat. I couldn't put it down. Loved, loved, loved it ' Goodreads Reviewer, ⭐⭐⭐⭐⭐

'Brilliant I do believe this is the best book by this author to date. The book is dark, intense, and makes you say oh he##. The storyline flows and the characters are intriguing. I read this in one sitting and can't wait for more.' Goodreads Reviewer, ⭐⭐⭐⭐⭐

'I cannot wait for the second book in this series to see where Mr. Olsen takes Megan, along with providing a deeper glimpse to her past Must read ' NetGalley Reviewer, ⭐⭐⭐⭐⭐

'A great and creepy story perfect for winter. I'd love to read more from this author. Fantastic and well written, highly recommended.' NetGalley Reviewer, ⭐⭐⭐⭐⭐
Bookouture, 9781838881719, 270pp.
Publication Date: November 18, 2019
or
Not Currently Available for Direct Purchase