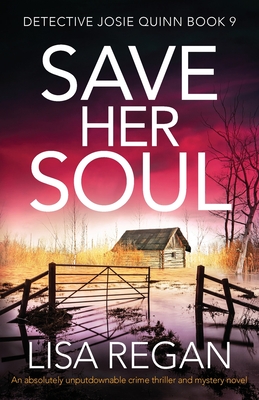 Save Her Soul
An absolutely unputdownable crime thriller and mystery novel
Paperback

* Individual store prices may vary.
Description
Josie flinches as she takes in the faded blue sports jacket wrapped around the girl they just pulled from the water. Josie knew someone who'd once owned that jacket. He had died in her arms five years ago.
Heavy rain pours on the small town of Denton causing the riverbanks to break and the body of a young girl to float quietly to the surface. With no crime scene to examine, the odds are against Detective Josie Quinn and her team. Mercifully, the victim's body is perfectly preserved, right down to the baseball patch on the jacket she was wearing. Josie can't hide her devastation--her dead ex-husband, Ray, owned one just like it.
Following the trail back to her high school, Josie identifies the girl as Beverly Urban, a troubled student rumored to have been dating Ray before she left town for good. It looks like a tragic accident until the autopsy reveals a bullet in her head and the heart-breaking secret she was keeping.
Josie visits the salon where Beverly's mother used to work, believing she was at the heart of a terrible scandal around the time her daughter's life was taken. With the Denton wives remaining tight-lipped, Josie's only hope is a secret meet-up with a terrified woman willing to talk. But she is murdered moments before giving Josie crucial information. It's clear that someone is prepared to keep on killing to stop the truth from getting out.
Digging deep into memories of her own past with Ray is the only advantage Josie has on this twisted killer... but at what cost?
Another jaw-dropping crime thriller from an Amazon, USA Today and Wall Street Journal bestselling author that will have you absolutely gripped from page one. Perfect for fans of Angela Marsons, Robert Dugoni and Rachel Caine.
Readers adore Lisa Regan:
'AMAZING... Love this author. Love this series. Love this book... I was on the edge of my seat.' NetGalley reviewer, 5 stars
'You will find yourself addicted as soon as you read the first chapters, and with a lightning-fast pace and an abundance of action and plot twists you will find it very hard to stop reading... a true rollercoaster ride... really packs a punch. If you enjoy intense and fast detective thrillers, you should definitely meet Josie Quinn ' It's All About Books, 5 stars
'Five she-knocked-it-out-of-the-ballpark stars Another fantastic instalment to the Detective Josie Quinn Series... This book had it all - character development, mystery, suspense, drama... I was so enthralled... captivating, thought-provoking and well researched.' Goodreads reviewer, 5 stars
'So amazing... it was impossible to just put down... the way everything ties together is genius... you won't be disappointed.' Goodreads reviewer, 5 stars
'Hooked me from the first page... tight, fast-paced, perfectly paced, well-researched, highly explosive, and always leaves you turning "just one more page"... a wild ride... a five-star read from beginning to end ' Katie Mettner, 5 stars
Bookouture, 9781838882327, 336pp.
Publication Date: August 12, 2020