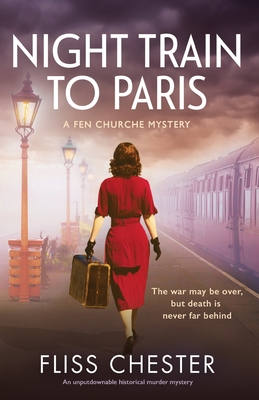 Night Train to Paris
An unputdownable historical murder mystery
Paperback

* Individual store prices may vary.
Description
Paris, 1945. Fen looked out over the rooftops as the sun was setting. The letter she was holding, written on blue paper, was the clue she'd been searching for. She wiped away a tear and pulled herself together. Who would want to murder her dearest friend?
Fen Churche arrives in Paris, determined to put the horrors of the war behind her. But the city of lights has lost its spark, except inside the beautiful apartment of Fen's godmother, artist Rose Coillard. Fen can't wait to hear about Rose's war work - under the nose of prominent Nazis, Rose created a secret list of the precious paintings they stole. Now Rose will be able to return them to their rightful Jewish owners.
But after a blissful few days reuniting with old friends, Fen finds Rose dead: stabbed through the neck with one of her own paintbrushes. Bewildered and scared, Fen is determined to solve her beloved friend's murder, just like she does with her favourite crossword puzzles. Then she discovers the cypher that unlocks Rose's list is missing. Could Rose's death be linked to the brave work she did during the war?
When Fen finds a blackmail letter in Rose's mailbox, accusing her of selling Jewish-owned paintings to the Nazis, she can't believe what she's reading. Then another member of Rose's Resistance network, who transported the artwork, dies in a volley of gunshots and Fen is sure the deaths are the work of the same villain. One who will stop at nothing to keep their treachery hidden.
Can Fen clear Rose's name and catch this devious killer?
You won't be able to put down this utterly addictive historical mystery The absolutely perfect treat if you love Rhys Bowen, Charles Todd and Jacqueline Winspear.
Readers are totally addicted to Fliss Chester
'I was totally captivated from the very beginning... I was holding my breath... I can't praise this book enough.' Goodreads Reviewer ⭐️⭐️⭐️⭐️⭐️
'Nail-biting suspense and powerful emotion... A marvellous treat for historical mystery fans... A compulsively readable thriller that has me waiting with bated breath for the next.' Bookish Jottings ⭐️⭐️⭐️⭐️⭐️
Bookouture, 9781838886462, 280pp.
Publication Date: November 26, 2020