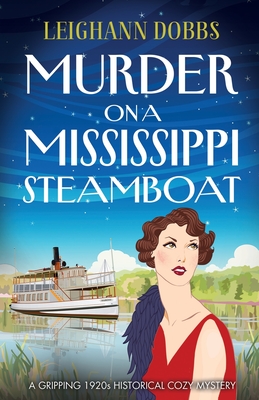 Murder on a Mississippi Steamboat
A gripping 1920s historical cozy mystery
Paperback

* Individual store prices may vary.
Description
FROM A NINE-TIMES USA TODAY BESTSELLING AUTHOR COMES A LIVELY AND FUN 1920s COZY MYSTERY WITH A BRAND-NEW DETECTIVE DUO.

Nora elbowed her way up to the railing and looked down. The paddle wheel was making its last turn, dredging up a mass of turquoise chiffon made almost transparent by the water. A hand, its red lacquered fingernails a contrast to the pale white skin, stuck up from a bejeweled cuff...

A relaxing cruise down the Mississippi on the Miss Delta Belle steamboat turns to tragedy when celebrity Delilah Dove falls from the deck and is swallowed by the river faster than you can say 'man overboard '

It's touted as a tragic accident, but guests Miss Nora Marsh and her wily great-aunt Julia know a murder when they see one. Can they get justice for Delilah and crack the case without alerting the murderer to their suspicions?

As Nora and Julia hunt for clues it emerges that nearly everyone had a reason to want Delilah dead. And that's bad news for the two sleuths--who want to solve the case pronto, before Mississippi police chief and Aunt Julia's nemesis Artemis Leonard comes on board at the next port to launch the official investigation. She's not letting him get the credit if she can help it.

With multiple suspects and a series of mysterious thefts onboard--not to mention the distractingly handsome Max Lawton turning Nora's head--this is shaping up to be one tough case to crack. What started as a gentle river voyage is far from plain sailing.

A gripping and witty 1920s murder mystery from bestselling author Leighann Dobbs, perfect for fans of T E Kinsey and Lee Strauss.
Readers love Leighann Dobbs:

⭐⭐⭐⭐⭐ "You can't go wrong with a Leighann Dobbs book so I was really excited to get to read this. The characters are well developed and the storyline flows well. The setting is quite enjoyable and I loved trying to piece the puzzle together. This is a great book for fans of the 1920s." Goodreads reviewer

⭐⭐⭐⭐⭐ "This was soooooo good ... No doubt about it: this was one of THE best cozies out there. Such fun... I can honestly say I was totally stunned at whodunit... I loved everything about this book." Goodreads reviewer

⭐⭐⭐⭐⭐ "If you love cozy mysteries or books set in the 1920's then you'll love this book. ...] The mystery itself has many plausible suspects and a few surprises but the real killer isn't immediately obvious. A really great read for those of us who love a great puzzle without the graphic violence." Goodreads reviewer

⭐⭐⭐⭐⭐ "Oh, I loved this book. It was so much fun ... This book is precious and I loved reading every minute." Goodreads Reviewer
Bookouture, 9781838886721, 176pp.
Publication Date: June 1, 2020