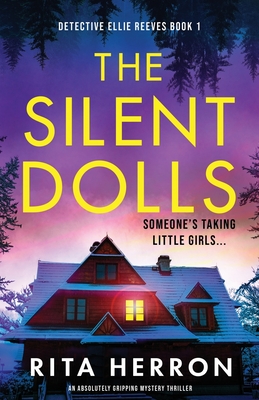 The Silent Dolls
An absolutely gripping mystery thriller
Paperback

* Individual store prices may vary.
Description
Silent tears trickle down her cheeks as she curls inside the tiny cave-like space. She lies on her side, darkness all around her, rubbing her fingers over the little wooden doll he'd carved. He told her to be quiet, not to cry or scream. Not to be a baby. Her throat was raw, her eyes swollen shut. She wanted her mommy and daddy. She wanted to go home.
When Penny Matthews, a seven-year-old girl with blonde curls and a gap-toothed smile, goes missing in the Appalachian mountains, Detective Ellie Reeves is called straight to the scene. According to Penny's parents, their daughter vanished after a picnic by the creek. All that's left behind is a pink friendship bracelet etched with "Penny".
Ellie knows all too well that the mountains' endless miles of dark forest and winding rivers are the perfect place for a criminal to hide. Racing against the rapidly setting sun and a brutal winter storm on the horizon, she searches desperately for Penny.
Special Agent Derrick Fox is determined to join the hunt. His younger sister, Kim, disappeared in the same area twenty-five years ago--on the day he was meant to be watching her. He's certain the cases are linked and that over a dozen girls have vanished in the last decade. Ellie refuses to believe that their tight-knit mountain community could be home to a deadly criminal, but even she can't deny the similarities in the cases. And when they discover the remains of a small body buried with a carved wooden doll, it's clear they're up against a deadly serial killer preying on innocent little girls.
As the temperature plunges, Penny's life hangs in the balance. Most people who get lost in the woods never make it out alive. Can Ellie and Derrick defy the odds and find out the truth about all the stolen girls? Or will the mountain, and its twisted killer, claim another victim?
Readers absolutely love Rita Herron:
"Too amazing for me to put into words Best book I've read EVER. I'm so overwhelmed with 100 different emotions, and even though it's now 4:00 a.m. and my 5 year old wakes up in 4 hours, I want to read this book again. I'm too filled with butterflies to sleep, this book JUST GOT BETTER and better with each PAGE I honestly can't put into words how incredible this book is I want to give everyone a copy for Christmas, NO one should miss out on this book I'm so grateful to the author for this gift." Goodreads Reviewer, ⭐⭐⭐⭐⭐
"Wow, a breathtaking ride from start to finish Well written, with superb character development. The plot had many so many twists and turns, it kept me on my toes the entire time " Goodreads Reviewer, ⭐⭐⭐⭐⭐
Bookouture, 9781838887612, 334pp.
Publication Date: July 17, 2020