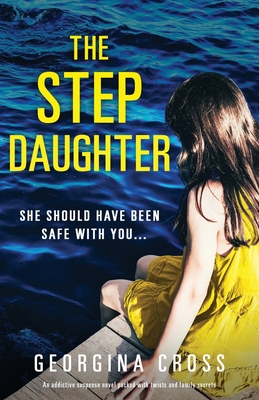 The Stepdaughter
An addictive suspense novel packed with twists and family secrets
Paperback

* Individual store prices may vary.
Description
It's a normal afternoon when I walk out the patio doors of our kitchen to check on Mia, my stepdaughter, who is swimming in our backyard pool. But she's gone. My heart stops when I see the back gate is open, her pink, fluffy towel lying folded on a chair. I was just feet away. Why didn't I hear her scream? Who took our little girl?
My husband can't understand how I could have let his daughter disappear. And when the police come asking questions, I wish I could wind back time to that normal afternoon when I was cooking lasagna for my family, Mia's favorite. I can tell the officers don't believe me: they've cast me as the evil stepmother.
I just wish I could understand the messages I've found from my husband on Mia's phone: I'm so sorry, I still love you. And why his wedding ring is found at the bottom of the pool after Mia disappeared. He never told me it was missing. What else is he hiding?
But the detective keeps asking me where I was during those ten minutes when Mia vanished. And I can't tell her my secret. From the way she's looking at me, I know she thinks I did something to my stepdaughter. Mia and I haven't always been that close and sometimes she drives me nuts, just like any normal teenager, but I would never hurt her.
I just need you to believe me.
A twisty novel packed with unputdownable suspense about the power and damage of secrets we hide. Perfect for anyone who was totally hooked by The Mother-in-Law, Kerry Fisher and Big Little Lies.
Readers are utterly gripped by The Stepdaughter
"Wowser This was a fast mover. I literally read The Stepdaughter in two sittings and don't know where today went... I think I suspected just about everyone at some point... I'd definitely recommend this book to fast-paced psychological thriller lovers. It's not one to be missed. Be prepared to lose time once you start reading " NetGalley Reviewer ⭐️⭐️⭐️⭐️⭐️
"Oh my word what a brilliant book this is, it got me interested from the very first page... and soon became a fast-paced psychological thriller which I couldn't put down. It was extremely well written, excellent characters, brilliantly addictive. I was holding my breath until the very last page, all this with an ending I didn't guess." NetGalley Reviewer ⭐️⭐️⭐️⭐️⭐️
"I spent the whole book changing my mind about what happened and who was responsible and did not ever draw the right conclusions on this one. It's a great read and I can see this becoming a TV series." Goodreads Reviewer ⭐️⭐️⭐️⭐️⭐️
"What a debut it is I was hooked immediately, and the story flowed seamlessly as I was led down a dark and twisty path of secrets and deception... A highly enjoyable and compulsive read that kept me guessing until the very end... An author to watch." Goodreads Reviewer ⭐️⭐️⭐️⭐️⭐️
"The twists in this book are so good. A must read." Goodreads Reviewer ⭐️⭐️⭐️⭐️⭐️
Bookouture, 9781838889401, 296pp.
Publication Date: September 2, 2020