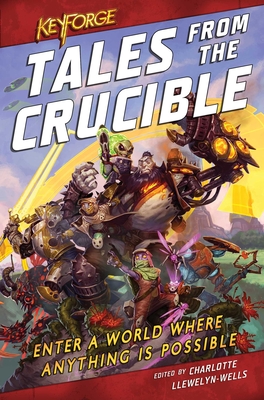 KeyForge
Tales From the Crucible: A KeyForge Anthology
Paperback

* Individual store prices may vary.
Description
Take a whirlwind tour to the incredible planet of a million fantasy races, the Crucible, in this wild science fantasy anthology from the hit new game, KeyForge.

Welcome to the Crucible – an artificial planet larger than our sun – an ever-growing patchwork of countless other worlds, filled with creatures, sentient beings and societies stolen from across the universe by the mythical Architects. Across this dizzying juxtaposition of alien biospheres, the enigmatic and godlike Archons seek to unlock the secrets at the heart of the Crucible. Everyone else is just trying to survive... Explore ten tales of adventure in a realm where science and magic team up, of discovery and culture clash, featuring mad Martian scientists, cybernetic surgeons, battle reenactors, elven thieves, private investigators, goblins, saurian monsters, and the newly arrived human Star Alliance.
Praise For KeyForge: Tales From the Crucible: A KeyForge Anthology…
"It's been a total blast! As a reader who spends a lot of time exploring grim sci-fi, dark fantasy and horror, these bright and bold and colourful stories have been a real breath of fresh air. I can't wait to read more from this setting!!"
— Track of Words

"I absolutely loved every minute of reading this anthology… If KeyForge as a game is even a tenth as fun, enjoyable and heartening as this anthology, then it will have found a dedicated fan in me and, I'm certain, many other readers."
— The Sci-Fi and Fantasy Reviewer

"I found each of the stories in this book to be an easy and delightful read. Each story has its own twists and turns, character moments and surprises… I'm really itching to get Keyforge back to the table soon. Not only that, but when I do play again, I feel as if I'll be paying more attention to each card I play."
— Boards & Swords

"An unexpectedly charming little window into the thoroughly weird world of the Crucible, and of KeyForge"
— Drop Lowest
Aconyte, 9781839080234, 336pp.
Publication Date: September 1, 2020
About the Author
CHARLOTTE LLEWELYN-WELLS is a bibliophile who took a wrong turn in the wardrobe and ended up as an editor – luckily it was the best choice she ever made. She's a geek and fangirl with an addiction to unicorns, ice hockey and ice cream.

David Guymer is a scientist and writer from England. His work includes many novels in the New York Times-bestselling Warhammer and Warhammer 40,000universes, notably Headtaker and Gotrek & Felix: Slayer, and thenbestselling audio drama Realmslayer. He has also contributed to fantastical worlds in video games, tabletop RPGs, and board games.

Robbie Macniven is a Highlands-native History graduate from the University of Edinburgh. He is the author of several novels and many short stories for the New York Times-bestselling Warhammer 40,000 and Age of Sigmar universe, and the narrative for HiRez Studio's Smite Blitz RPG.

TRISTAN PALMGREN is a Missouri, US-based author and computer game writer, known for the critically acclaimed genre-warping novels that blend historical fiction and space opera, Quietusand its sequel Terminus.

M K HUTCHINS is the author of the YA fantasy novels The Redwood Palace, and Junior Library Guild Selection, Drift. She is a prolific short story writer, appearing in Fireside, Podcastle, Strange Horizons, and elsewhere. A long-time Idahoan, she now lives in Utah with her husband and four children.

M DARUSHA WEHM is the Nebula Award-nominated and Sir Julius Vogel Award-winning author of the interactive fiction game The Martian Job, several SF and YA novels, and the Andersson Dexter cyberpunk detective series. Originally from Canada, Darusha now lives in New Zealand after spending several years sailing the Pacific.

Cath Lauria is a Colorado girl who loves snow and sunshine. She is a prolific author of science fiction, fantasy, suspense and romance fiction, and has a vast collection of beautiful edged weapons.

THOMAS PARROTT grew up reading science fiction and fantasy from a very young age. This was only compounded by the discovery of video games and tabletop roleplaying. This has led to a life of dealing with the mundane while dreaming of dragons. He has written Isha's Lament, The Test of Faith, and Loyal to the End, all for the Warhammer 40,000 setting, as well as short fiction for Arkham Horror and KeyForge anthologies. He lives in Georgia.

C L WERNER is a voracious reader and prolific author from Phoenix, Arizona. His many novels and short stories span the genres of fantasy and horror, and he has written for Warhammer's Age of Sigmar and Old World, Warhammer 40,000, Warmachine's Iron Kingdoms, and Mantic's Kings of War.
or
Not Currently Available for Direct Purchase