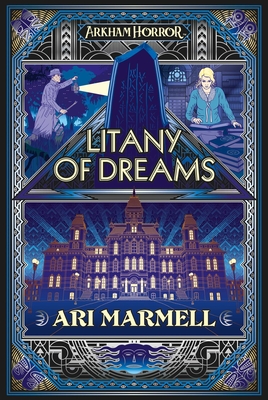 Litany of Dreams
An Arkham Horror Novel
Paperback

* Individual store prices may vary.
Description
Dark incantations expose the minds of Miskatonic University students to supernatural horrors, in this chilling mystery novel of Arkham Horror

The mysterious disappearance of a gifted student at Miskatonic University spurs his troubled roommate, Elliot Raslo, into an investigation of his own. But Elliot already struggles against the maddening allure of a ceaseless chant that only he can hear… When Elliot's search converges with that of a Greenland Inuk's hunt for a stolen relic, they are left with yet more questions. Could there be a connection between Elliot's litany and the broken stone stele covered in antediluvian writings that had obsessed his friend? Learning the answers will draw them into the heart of a devilish plot to rebirth an ancient horror.
Aconyte, 9781839080272, 352pp.
Publication Date: April 13, 2021
About the Author
ARI MARMELL is the author of the Mick Oberon urban fantasy series, the Widdershins YA fantasy series and many others, alongside novels in Magic: the Gathering and the video game, Darksiders, as well as writing for several roleplaying games.