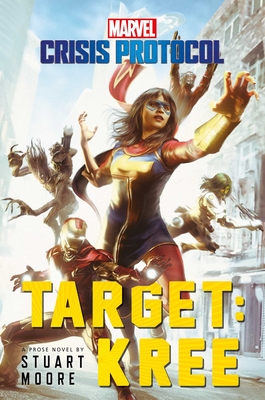 Target
Kree: A Marvel: Crisis Protocol Novel
Paperback

* Individual store prices may vary.
Description
The Avengers clash with the Guardians of the Galaxy in a desperate search for a planet-killer, in this action-packed novel set in the world of the Marvel: Crisis Protocol game

Following the destruction of their world, a group of Kree refugees come to Earth to work for Stark Enterprises. But the Guardians of the Galaxy arrive soon after, believing that the world-killer is actually one of those Kree, now hiding out on Earth. But there are others after the killer too, and the Avengers have no choice but to respond – and both Tony Stark and Ms Marvel have to choose between the fate of the Earth and the people they care about.
Praise For Target: Kree: A Marvel: Crisis Protocol Novel…
"Fast-paced, action-filled superhero adventure."
— School Library Journal, on Marvel Crisis Protocol: Target: Kree

"This really does feel like a bold, brightly-coloured superhero movie… a flashy action story that's tremendous fun while still maintaining some characterful depths."
— Track of Words, on Marvel Crisis Protocol: Target: Kree

"I particularly love books with a ton of crossover characters, and Target: Kree does not disappoint. It has cover-to-cover action that never gets dull. I gave Target:Kree five stars. I have read several of the Marvel prose novel from Aconyte Books, and this was my favorite one yet."
— Chris L. Owens, on Marvel Crisis Protocol: Target: Kree

"If you love superheroes getting in fights with each other, if you like big team ups against powerful foes, if you like stories where the stakes are the entire planet, and if you're a fan of comics this is the kind of novel that will appeal to you. It throws so much at the reader that you're constantly on your toes, excited to find out what's going to happen next, or eager to see which hero might appear at the last minute to help save the day. A ton of fun that every geek is sure to love."
— Trans-Scribe, on Marvel Crisis Protocol: Target: Kree

"A fun beat-em-up story"
— Big Geordie Geek, on Marvel Crisis Protocol: Target: Kree
Aconyte, 9781839080708, 400pp.
Publication Date: July 6, 2021
About the Author
STUART MOORE is a writer, fiction editor, and a multiple award-winning comics editor. His many novels include X-Men: The Dark Phoenix Saga, The Zodiac Legacy (created and cowritten by Stan Lee), and Thanos: Death Sentence. He has recently written comics such as Deadpool the Duck, Batman, and EGOs. Stuart is the former editor of the Marvel prose novel line, founding editor of Vertigo, and of several other comic imprints.
or
Not Currently Available for Direct Purchase