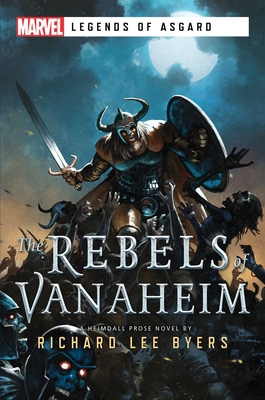 The Rebels of Vanaheim
A Marvel Legends of Asgard Novel
Paperback

* Individual store prices may vary.
Description
The bold hero Heimdall returns to battle the undead and his own divided loyalties, in this rip-roaring fantasy adventure set in Marvel's Legends of Asgard

The dead have returned.

Odin, All-Father of Asgard, dispatches the heroic warrior Heimdall and the Valkyrie Uschi to eliminate a mysterious infestation of draugr – the living dead – in the proud realm of Vanaheim. Yet his home is not as Heimdall remembers it. Anti- Asgardian sentiment is rife, and the arrival of just two warriors from Asgard to deal with the draugr threat only incenses its people further. With rebellion growing in Vanaheim, Heimdall must investigate this conspiracy and the undead, even if it pits him against his own kin, to preserve the peace of the Realm Eternal.
Praise For The Rebels of Vanaheim: A Marvel Legends of Asgard Novel…
"Byers hits it out of the park with this second book in the Legends of Asgard series featuring Heimdall."
— Track of Words

"Heimdall versus shape-shifting zombies… Of course I wanted to read this!!!"
— Simply a Book Drunkard

"The inclusion of draugr, dwarves and named swords of power makes for a classic fantasy tale filled with adventure and high-stakes. Byers shines in this regard, and what he presented here makes me interested in seeking out more of his work."
— Martin's View

"It has well-rounded characters and vivid scene-setting, with plenty of sorcery and magical weapons to satisfy fans, and a nail-biting climax. Richard Byers writes in dense, fluid language which demands close attention but which never bores, and it is always a joy to escape into the world that he has created."
— Kid Ferrous Reviews
Aconyte, 9781839080784, 352pp.
Publication Date: December 21, 2021
About the Author
RICHARD LEE BYERS is the author of over fifty fantasy and horror novels, including a dozen set in the Forgotten Realms universe. A resident of the Tampa Bay area, the setting for many of his horror stories, he spends much of his free time fencing and playing poker (presumably not at the same time).