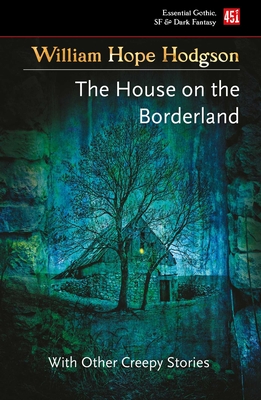 The House on the Borderland
Paperback

* Individual store prices may vary.
Other Editions of This Title:
Paperback (9/9/2017)
Paperback (12/11/2017)
Paperback (1/30/2021)
Paperback (3/8/2018)
Paperback (4/27/2015)
Paperback (8/3/2015)
Paperback (12/7/2013)
Paperback (10/16/2019)
Paperback (9/21/2017)
Paperback (10/28/2017)
Paperback (2/20/2020)
Paperback (1/25/2012)
Paperback (12/31/2020)
Paperback (8/17/2017)
Paperback (5/22/2018)
Paperback (6/14/2020)
Paperback (10/1/2014)
Paperback (8/6/2019)
Description
Cited by H.P. Lovecraft as 'perhaps the greatest of all Mr. Hodgson's works', this tale of a deserted house in Ireland hints at a terrifying evil. When two men on an innocent fishing trip encounter the enigmatic ruins of a house, they slowly uncover its secrets through the diary of its previous tenant. At each turn of the page, horrors begin to unfold, monsters are revealed and new dimensions exposed. A gripping story right to the very end, Hodgson's masterful writing leads the reader into a nightmarish world from which there may be no escape. FLAME TREE 451: From mystery to crime, supernatural to horror and fantasy to science fiction, Flame Tree 451 offers a healthy diet of werewolves and mechanical men, blood-lusty vampires, dastardly villains, mad scientists, secret worlds, lost civilizations and escapist fantasies. Discover a storehouse of tales gathered specifically for the reader of the fantastic. Each book features a brand new biography and glossary of Literary, Gothic and Victorian terms.
Browntrout Publishers, 9781839641671, 256pp.
Publication Date: February 23, 2021
About the Author
William Hope Hodgson (1877-1918) was born in Essex but moved several times with his family, including a stint in County Galway in Ireland - a setting that would later inspire The House on the Borderland. Hodgson made several unsuccessful attempts to run away to sea, until his uncle secured him some work in the Merchant Marine. His association with the ocean would unfold later in his many sea stories. After some initial rejections of his writing work, Hodgson managed to become a full time writer of both novels and short stories, which form a fantastic legacy of adventure, mystery and horror fiction.