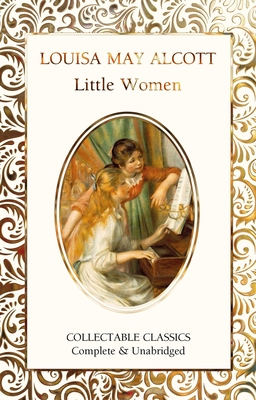 Little Women
Hardcover

* Individual store prices may vary.
Other Editions of This Title:
Paperback (12/16/2016)
Paperback (10/13/2016)
Paperback (5/16/2015)
Paperback (9/18/2018)
Paperback (11/3/2016)
Paperback (10/14/2020)
Paperback (7/29/2017)
Paperback (2/17/2017)
Paperback (12/9/2014)
Paperback (12/10/2013)
Paperback (6/12/2018)
Paperback (1/16/2018)
Paperback (8/6/2017)
Paperback (4/23/2020)
Paperback (1/25/2021)
Paperback (2/14/2017)
Paperback (5/3/2020)
Paperback (10/21/2020)
Paperback (5/8/2015)
Description
A stunning new edition with deluxe cover treatments, ribbon markers, luxury endpapers and gilded edges. The unabridged text is accompanied by a Glossary of Victorian and Literary terms produced for the modern reader. The lives of four teenage sisters - Meg, Jo, Beth and Amy - unfold in this treasured classic. Living in Massachusetts the March sisters are struggling though poverty and the effects of the American Civil War, which has taken away their father. Through happy and sad times, the sisters pull together with help from their mother, Marmee. Despite squabbles and desperate times, the sisters have a contagious sense of fun that leads to many adventures and eventually they learn exactly what it takes to grow up. Little Women was released in 1868 to commercial success and favourable reviews from critics. It has since become a true literary classic, made into countless adaptations, and a worldwide success that is loved by many. The FLAME TREE COLLECTABLE CLASSICS are chosen to create a delightful and timeless home library.
Flame Tree Collectable Classics, 9781839641749, 672pp.
Publication Date: August 11, 2020
About the Author
Louisa May Alcott (1832-88) was an American novelist, poet and short story writer. She drew inspiration for her writing from her family life. She grew up with three sisters, Abigail, Elizabeth and Anna, and their relationships are often said to have inspired her best known work, Little Women (1868) and its sequels Little Men (1871) and Jo's Boys (1886). Little Women proved popular from its publication, elevating Alcott's career. She was one of the most successful writers of the nineteenth century and is today considered one of the all-time literary greats. Judith John (glossary) is a writer and editor specializing in literature and history. She has worked as an editor on major educational projects, including English A: Literature for the Pearson International Baccalaureate series. Judith's major research interests include Romantic and Gothic literature, and Renaissance drama.