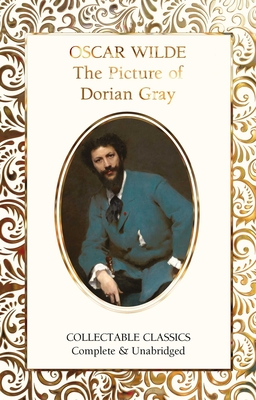 The Picture of Dorian Gray
Hardcover

* Individual store prices may vary.
Other Editions of This Title:
Paperback (7/29/2015)
Paperback (8/10/2015)
Paperback (1/27/2018)
Paperback (1/1/1890)
Paperback (5/31/2020)
Paperback (1/3/2019)
Paperback (10/26/2014)
Paperback (2/20/2007)
Paperback (5/31/2020)
Paperback (7/9/2016)
Paperback (8/8/2013)
Paperback (9/4/2015)
Paperback (1/4/2015)
Paperback (2/14/2020)
Paperback (4/3/2018)
Paperback (1/11/2018)
Description
A stunning new edition with deluxe cover treatments, ribbon markers, luxury endpapers and gilded edges. The unabridged text is accompanied by a Glossary of Victorian and Literary terms produced for the modern reader. The young, beautiful and highly susceptible Dorian Gray is pulled into the hedonistic haze of London's high society, where he falls under the pernicious influence of Lord Henry Wotton. Oscar Wilde's nightmarish tale gorges on pleasure and sin, corruption and vanity, as the story takes further dark twists and a Faustian deal threatens Gray's very soul. He will go to any lengths to keep his fleeting beauty and youth, but his painted portrait reveals the truth of his dark and twisted nature, changing its appearance at every misdeed, until the monstrous horror of Dorian's scarred soul is too much for him to bear. The FLAME TREE COLLECTABLE CLASSICS are chosen to create a delightful and timeless home library.
Flame Tree Collectable Classics, 9781839641817, 352pp.
Publication Date: November 24, 2020
About the Author
Oscar Wilde was born in Dublin in 1854. A brilliant poet, playwright, and wit, Wilde was a phenomenon in 19th century England, advocating the importance of style in life and art. Wilde studied at Oxford University then left for America where his flamboyant personality and air of sophistication and eccentricity caused a media sensation. He was immortalised by the stories he wrote for children such as The Happy Prince and his supernatural masterpiece, The Picture of Dorian Gray. Judith John (Glossary) is a writer and editor specializing in literature and history. She has worked as an editor on major educational projects, including English A: Literature for the Pearson International Baccalaureate series. Judith's major research interests include Romantic and Gothic literature, and Renaissance drama.