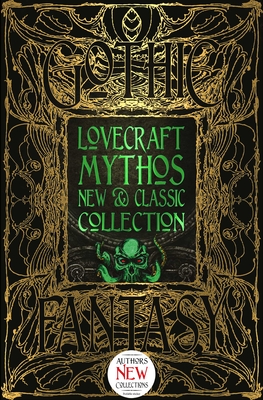 Lovecraft Mythos New & Classic Collection (Gothic Fantasy)
Hardcover

* Individual store prices may vary.
Description
• Marketing focus on combination of gift production and high content values, delivering a curated read to genre enthusiasts.
• Spotlight on submission process for the new stories, promoted online through blogs and social media
• Monthly newsletter to increase mailing list of genre special interest readers.
• Major interest pushed through Instagram, with Youtube reviewers and influencers.

Featuring new stories specially commissioned for the collection this offering of H.P. Lovecraft's shared universe is a thrilling immersion into the world of Old Ones and the Elder Gods, an ancient race of terrifying beings. In Lovecraft's vision we live in a deep, but fragile illusion, unable to comprehend the ancient beings, such as the Cthulhu who lies dead but dreaming in the submerged city of R'lyeh, waiting to rise then wreak havoc on our realm of existence.

Lovecraft used the mythos to create a background to his fiction, and challenged many writer companions to add their own stories. Clark Ashton Smith, Robert E. Howard, Robert Bloch, Frank Belknap Long, Henry Kuttner were amongst the first but over the years many others such as Ramsey Campbell, Lin Carter and August Derleth added their voices to the many mythic cycles, developing themes and new fictional pathways for the town of Arkham, and the creatures Azathoth and Nyarlathotep.

The Lovecraft Mythos is fertile ground for any writer of supernatural, horror, fantasy and science fiction, so for this edition we opened our submissions for brand new stories, many published here for the first time, to continue expanding the shared universe.

Contents List:

Cthulhu-Seltzer by Hal Bodner

Offspring by Evey Brett

The Franklyn Paragraphs by Ramsey Campbell

Foxfire Future by Helen E. Davis

Grave Secrets by JG Faherty

He Opens a Window by Cody Goodfellow

The Innsmouth of the South by Rachael K. Jones

The Damage by Scott R. Jones

Black Ships Seen South of Heaven by Caitlín R. Kiernan

Always a Castle? by Nancy Kilpatrick

Let It Stand by N.R. Lambert

Up from Slavery by Victor LaValle

The Whisper of Stars by Thana Niveau

My First Abomination by John Possidente

By Any Other Name by John Llewellyn Probert

A Gentleman from Mexico by Mark Samuels

Usurped by William Browning Spencer

Entirely Surrounded by Water by R.S. Stefoff

Shed a Tear for Asenath by Jonathan Thomas

Cloaca Maxima by Donald Tyson

Tracking the Black Book by Douglas Wynne
Flame Tree Collections, 9781839642357, 480pp.
Publication Date: November 17, 2020
About the Author
Ramsey Campbell has been given more awards than any other writer in the field, including the Grand Master Award of the World Horror Convention, the Lifetime Achievement Award of the Horror Writers Association, the Living Legend Award of the International Horror Guild and the World Fantasy Lifetime Achievement Award.
or
Not Currently Available for Direct Purchase