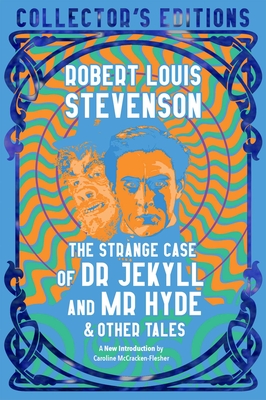 The Strange Case of Dr. Jekyll and Mr. Hyde & Other Tales (Flame Tree Collectors' Editions) (Hardcover)
Flame Tree Collections, 9781839644764, 320pp.
Publication Date: April 13, 2021
Other Editions of This Title:
Digital Audiobook (4/21/2016)
Digital Audiobook (8/10/2008)
Digital Audiobook (1/4/2010)
Paperback (3/7/2018)
Paperback (2/17/2009)
Paperback (1/11/2020)
Paperback (12/27/2019)
Paperback (12/4/2019)
Paperback (11/27/2012)
Paperback (9/10/2012)
Paperback (4/28/2011)
Paperback (8/14/2008)
Paperback (12/4/2013)
Paperback (11/13/2014)
Paperback (12/7/2019)
Paperback (1/1/2006)
* Individual store prices may vary.
Description
This new edition brings a fresh perspective on Stevenson's dark, celebrated evocation of duality: polite society undermined by the weakness deep within itself. Stevenson's drama is as powerful and shrewd today as it was in the late nineteenth century, bringing us universal messages from our past. Shame and shamelessness, lurid behaviour and decorum, all are in conflict as the dark desires of the soul grow ever stronger as Dr Jekyll struggles with his inner self.

Three of Stevenson's other dark tales reveal him to be a shrewd and skillful storyteller – 'The Body Snatcher', 'The Pavilion on the Links', 'The Story of a Lie'.

Flame Tree Collector's Editions present the foundations of speculative fiction, authors without whom the imaginative literature of the twentieth century would not exist, bringing the best and most influential writers into a striking and collectable library. Each book features a new introduction, a short biography and a glossary of Literary, Gothic and Victorian terms.
About the Author
Robert Louis Balfour Stevenson, novelist, essayist, and poet, is considered to be one of the great classic storytellers. Stevenson wrote a number of popular and enduring fantasies, including Treasure Island (1883) and 'The Strange Case of Dr Jekyll and Mr Hyde (1886).

Caroline McCracken-Flesher is Professor of English at the University of Wyoming, where she runs the Scotland program and directs the Center for Global Studies. An honorary fellow of the Association for the Study of Scottish Literature, her books include Possible Scotlands: Walter Scott and the Story of Tomorrow.