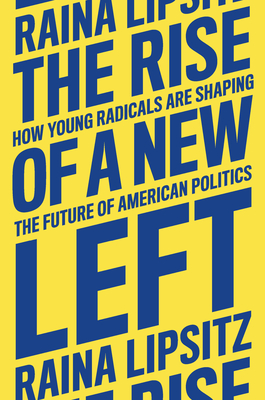 The Rise of a New Left
How Young Radicals Are Shaping the Future of American Politics
Hardcover

* Individual store prices may vary.
Description
HOW THE FIRST MAJOR LEFTWING GENERATION SINCE THE SIXTIES HAS SHAPED ELECTORAL POLITICS

The mushrooming rolls of the Democratic Socialists of America, Marxist explainers in Teen Vogue, and the outsized impact of the youngest woman ever elected to Congress, Alexandria Ocasio-Cortez, all herald a new, youth-inflected radical politics.

The Rise of a New Left gets behind the headlines about AOC and her cohort of elected officials to tell the stories of the young organizers who created the Squad and the new social movements that have roiled US politics, from the DSA to the Sunrise Movement to Justice Democrats. Ranging across the country to describe grassroots organizing in places like rural Pennsylvania, upstate New York, Kentucky, Florida, and California, this book examines the panoply of strategies and struggles of activists working in—and trying to transform—electoral politics and the climate justice, racial justice, and labor movements. Alongside Ocasio-Cortez, we hear from the even younger Alexandra Rojas, one of the strategists who guided her political insurgency.

Propelled by scores of immersive and absorbing conversations on political strategy with young activists determined to reshape the country, this book—by a writer who is herself a member of this generational movement—is a riveting account of a resurgent left.
Praise For The Rise of a New Left: How Young Radicals Are Shaping the Future of American Politics…
"The Rise of a New Left is an engrossing behind-the-scenes account of our decade's breakout political movement. It is also an invaluable second draft of history that readers and scholars will consult for many years to understand the opportunities and challenges of socialist organizing in the first decades of the 21st century."
–Atossa Araxia Abrahamian, author of The Cosmopolites: The Coming of the Global Citizen

"I was on the verge of getting sad about politics, again. Then I picked up The Rise of a New Left, I was reminded of all the energy on the young left, and I started feeling hope again. If you don't know this movement, you could find no better way to learn about it than this book."
–Doug Henwood, host, Behind the News, KPFA

"An exceptionally well-informed report from the ranks of the most dynamic, constructive movement in contemporary American politics. Few books can be profitably read as history, journalism, and political field manual, but this one succeeds on all three fronts." 
–Patricia O'Toole, author of The Moralist: Woodrow Wilson and the World He Made

"An important primer on the young activists and politicians whose mandate is nothing less than saving our country." 
–Gary Shteyngart, author of Our Country Friends: A Novel
Verso, 9781839764264, 272pp.
Publication Date: September 27, 2022
About the Author
Raina Lipsitz lives in Brooklyn and writes about politics and culture. Her work has appeared in Al Jazeera America, the Appeal, Atlantic, Nation, and New Republic, among other publications.