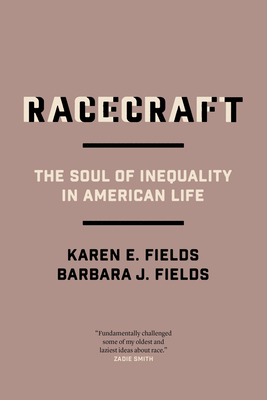 Racecraft
The Soul of Inequality in American Life
Paperback

* Individual store prices may vary.
Other Editions of This Title:
Paperback (3/4/2014)
MP3 CD (4/6/2021)
Compact Disc (4/6/2021)
Description
A new edition of a celebrated contemporary work on race and racism

Praised by a wide variety of people from Ta-Nehisi Coates to Zadie Smith, Racecraft "ought to be positioned," as Bookforum put it, "at the center of any discussion of race in American life."

Most people assume racism grows from a perception of human  difference: the fact of race gives rise to the practice of racism.  Sociologist Karen E. Fields and historian Barbara J. Fields argue  otherwise: the practice of racism produces the illusion of race, through  what they call "racecraft." And this phenomenon is intimately entwined  with other forms of inequality in American life. So pervasive are the  devices of racecraft in American history, economic doctrine, politics,  and everyday thinking that the presence of racecraft itself goes  unnoticed.

That the promised post-racial age has not dawned, the  authors argue, reflects the failure of Americans to develop a legitimate  language for thinking about and discussing inequality. That failure  should worry everyone who cares about democratic institutions.
Praise For Racecraft: The Soul of Inequality in American Life…
"It's not just a challenge to racists, it's a challenge to people like me, it's a challenge to African-Americans who have accepted the fact of race and define themselves by the concept of race."
—Ta-Nehisi Coates

"Fundamentally challenged some of my oldest and laziest ideas about race."
—Zadie Smith

"These essays are extraordinary. I love the forceful elegance with which they hammer home that race is a monstrous fiction, racism is a monstrous crime."
—Junot Díaz

"Demanding and intelligent."
—Jennifer Vega, PopMatters

"Karen E. Fields and Barbara J. Fields have undertaken a great untangling of how the chimerical concepts of race are pervasively and continuously reinvented and reemployed in this country."
—Maria Bustillos, Los Angeles Review of Books

"The neologism 'racecraft' is modelled on 'witchcraft' … It isn't that the Fieldses
regard the commitment to race as a category as an irrational superstition. On the
contrary, they are interested precisely in exploring its rationality—the role that
beliefs about race play in structuring American society—while at the same time
reminding us that those beliefs may be rational but they're not true."
—Walter Benn Michaels, London Review of Books

"A most impressive work, tackling a demanding and important topic—the myth that we now live in a postracial society—in a novel, urgent, and compelling way. The authors dispel this myth by squarely addressing the paradox that racism is scientifically discredited but, like witchcraft before it, retains a social rationale in societies that remain highly unequal and averse to sufficiently critical engagement with their own history and traditions."
—Robin Blackburn

"[Racecraft] should be more widely read than it is—no matter its current reach. In it, the authors achieve an intelligence and agility that is rare in discussions of identity, racism, and inequality."
—Matthew McKnight, Nation

"Liberal mores against overt racism are crumbling in the face of Trump. We must build them better … The Fields sisters dive through sociology, history, and science to reach the material truth: races is a product of racism, not the other way around."
—Charlie Heller, Paste

"With examples ranging from the profound to the absurd—including, for instance, an imaginary interview with W.E.B. Dubois and Emile Durkheim, as well as personal porch chats with the authors' grandmother—the Fields delve into 'racecraft's' profound effect on American political, social and economic life."
—Global Journal

"This is a very thoughtful book, a very urgent book."
—The Academic & The Artist Cloudcast

"Ostensibly 'antiracist' politics that treat racial categories as if they were real … perpetuate what they purport to resist. As this form of counterproductive antiracism becomes hegemonic in our culture, the Fieldses' insights are increasingly salient."
—Blake Smith, Washington Examiner
Verso, 9781839765643, 320pp.
Publication Date: February 1, 2022
About the Author
Barbara J. Fields is Professor of History at Columbia University. Her books include the prize-winning Slavery and Freedom on the Middle Ground: Maryland During the Nineteenth Century; The Destruction of Slavery (coauthored with the Freedmen and Southern Society Project); and Free at Last: A Documentary History of Slavery, Freedom, and the Civil War.
Karen E. Fields is Distinguished Visiting Scholar at the Center for African and African American Research at Duke University. Her books include a translation of Emile Durkheim's Elementary Forms of Religious Life. She is at work on Racism in the Academy: A Traveler's Guide and Bordeaux's Africa.