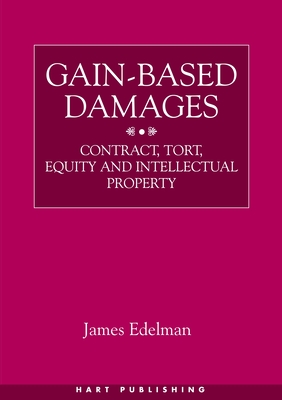 Gain-Based Damages
Contract Tort Equity and Intellectual Property
Hardcover

* Individual store prices may vary.
Description
On July 27, 2000, the House of Lords delivered a decision where, for the first time in English law, it explicitly recognized that damages for civil wrongs can be assessed by reference to a defendant's gain rather than a claimant's loss. This book considers the nature of gain-based damages and explains when they have historically been available and why, and provides a framework for appreciating the operation of such damages awards. The core thesis of the book is that two different forms of gain-based damages exist: the first is concerned with restitution of a defendant's gains wrongfully transferred from a claimant; the second is concerned only with stripping profits from the defendant's hands. Once these two gain-based damages awards are separated, they can be shown to be based upon different rationales and the basis for their availability can be easily understood.
Hart Publishing, 9781841133348, 288pp.
Publication Date: April 19, 2002
About the Author
James Edelman, a Justice of the Federal Court of Australia and Adjunct Professor at the University of Queensland, has previously been a Justice of the Supreme Court of Western Australia and Professor of the Law of Obligations at the University of Oxford.