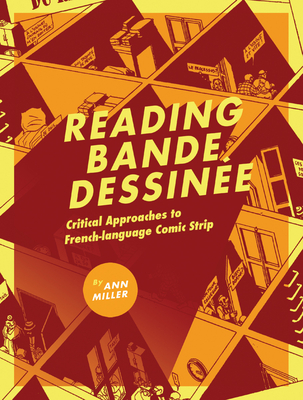 Reading Bande Dessinee (Paperback)
Critical Approaches to French-Language Comic Strip
Intellect (UK), 9781841501772, 272pp.
Publication Date: February 1, 2008
* Individual store prices may vary.
Description
Bande dessinee, or French comic strip, has always provoked controversy labeled a danger to literacy and moral standards by its detractors, this polarizing art form has at the same time been deemed worthy of prestigious national centers in France and Belgium. "Reading Bande Dessinee," the first English-language overview and critical study of this intriguing medium, traces the history and examines the cultural implications of French comics.
Ann Miller's groundbreaking book not only parses bande dessinee as visual narrative art, but it shows readers how to study it, as she places these comic strips in the context of debates surrounding the form's legitimization, approaches it from a cultural studies perspective, and examines bande dessinee in its relationship to subjectivity in the body. Miller here illuminates such disparate concepts as Asterix and the mythologizing of Frenchness, historical memory and the Algerian war, and characterizations of the new managerial bourgeoisie in the context of Francophone comic strips. "Reading Bande Dessinee" will help lay a scholarly foundation for the growing interest in this captivating art form in the Anglophone world. Miller s] analysis ranges from psychoanalytic to Marxist interpretations and is a terrific introduction to this neglected aspect of the comic world. Roger Sabin, "Observer" The characteristics of Ann Miller's writing for me abound in this latest work; concise prose, beautifully crafted sentences, complex analysis illustrated with crystal clear exemplification. This is a work for a wide readership. It is a work for enriching subject knowledge for teachers and students of French and/or the visual arts at advanced levels. Ann Swarbrick, "Language Learning Journal"
""
"" The work provides both a key analysis for scholars of the bande dessinee, as well as a manual for a modern application of critical theory. Dr. Laurence Grove, University of Glasgow This exceptional work of synthesis by Ann Miller must be applauded. She succeeds in providing a detailed and complete panorama of bande dessinee a cultural phenomenon, an achievement which is all the more remarkable given that the author makes successive use of multiple scholarly approaches, moving from the cultural history of the production and reception of bande dessinee to the theoretical reflections on the medium, the sociological analysis and the problematic of the autobiographical self in graphic literature. Harry Morgan.
About the Author
Ann Miller is a lecturer in French at the University of Leicester."
Praise For Reading Bande Dessinee: Critical Approaches to French-Language Comic Strip…
"[Miller's] analysis ranges from psychoanalytic to Marxist interpretations and is a terrific introduction to this neglected aspect of the comic world."—Roger Sabin, Observer
 
 
 
 
 
 
 
 

-Roger Sabin

"The characteristics of Ann Miller's writing for me abound in this latest work; concise prose, beautifully crafted sentences, complex analysis illustrated with crystal clear exemplification. This is a work for a wide readership. It is a work for enriching subject knowledge for teachers and students of French and/or the visual arts at advanced levels."—Ann Swarbrick, Language Learning Journal
 
 

-Ann Swarbrick

"The work provides both a key analysis for scholars of the bande dessinée, as well as a manual for a modern application of critical theory."—Dr. Laurence Grove, University of Glasgow
 
 
 

-Laurence Grove

"This exceptional work of synthesis by Ann Miller must be applauded. She succeeds in providing a detailed and complete panorama of bande dessinée a cultural phenomenon, an achievement which is all the more remarkable given that the author makes successive use of multiple scholarly approaches, moving from the cultural history of the production and reception of bande dessinée to the theoretical reflections on the medium, the sociological analysis and the problematic of the autobiographical self in graphic literature."—Harry Morgan
 
 

-Harry Morgan

"Ann Miller's r

"Ann Miller's contribution to bande dessinée studies is most welcome: anglophone academics are increasingly realising that the ninth art is both a valuable teaching tool and a gold mine for researchers of every hue. Reading bande dessinée breaks new ground, as it is multi-disciplinary. . . .The sensible decision to translate all quotations from French into English will enable Reading bande dessinée to reach the wide public it deserves. This book is a must for all serious students of the ninth art." – Matthew Screech, Modern and Contemporary France
or
Not Currently Available for Direct Purchase