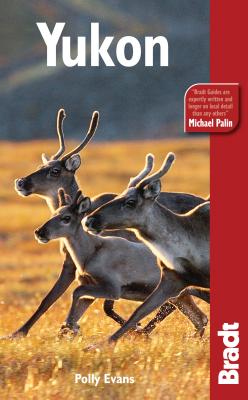 Bradt Yukon (Paperback)
Bradt Travel Guides, 9781841623108, 264pp.
Publication Date: May 18, 2010
* Individual store prices may vary.
Description
Canada's Yukon is one the world's last great wildernesses, where bears, moose and caribou roam. It's a place where hikers, paddlers, skiers and mushers can travel for days without seeing another human soul, where the northern lights dance green and red across starry skies, where glaciers tumble, mountain peaks soar, and tundra shrubs scream scarlet as summer turns to fall. It's a land of heart-rending human stories, too, for the Yukon is home to the Klondike, to which an estimated hundred thousand dreamers and desperadoes - including a young Jack London - once swarmed in search of gold. Bradt's Yukon is the only guidebook dedicated to this natural and historical wonderland. Offering practical advice on everything from where to pan for gold to how to avoid being eaten by a bear, alongside quirky anecdotes (such as the story behind the 'sourtoe cocktail' - a shot of whisky garnished with a severed human toe), it's the perfect companion for highway drivers, cruise-ship passengers, and outdoors enthusiasts alike.
About the Author
People always ask travel writers, 'Which is your favourite place?' Before visiting Yukon, Polly always answered, 'My own sofa'; ever since, she says, 'Yukon'. An award-winning journalist and author, Polly first travelled to Canada's Yukon to research her book on learning to drive sled dogs, Mad Dogs and an Englishwoman. She didn't expect to like it very much: she has never been good with the cold. But the extraordinary peace and beauty of the far north in winter - the indigo shades of the snow beneath the weak morning sun, the sound of a sled dog's paws, the sight of the Northern Lights creeping up as bony green fingers from the horizon - affected Polly more than she had thought possible. 'These simple and almost silent pleasures have an intensity that the noise and bright lights of a city can never match, ' she says.During one of many return visits to Yukon, Polly undertook the research for Bradt's Yukon, which won the British Guild of Travel Writers' award for Best Guidebook. The judges commented, 'The writer was obviously smitten with the Yukon, this was very apparent from the text, but two things stood out for the judges - the quality of the writing and the amount of research.' Polly also won the Independent/Bradt Travel Guides Travel Writing Competition with an article she wrote about a camping trip with sled dogs in Yukon. Additionally, she has written about the territory for newspapers and magazines including the Sunday Times, National Geographic, Conde Nast Traveller, Wanderlust, Sunday Times Travel, BBC Wildlife and Traveller.
or
Not Currently Available for Direct Purchase