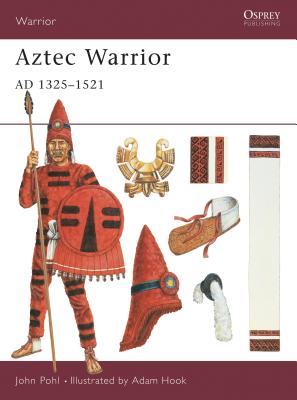 Aztec Warrior: AD 1325-1521 (Paperback)
AD 1325-1521
Osprey Publishing, 9781841761480, 64pp.
Publication Date: June 25, 2001
* Individual store prices may vary.
or
Not Currently Available for Direct Purchase
Description
According to one popular image, the Aztec army was a ruthless and efficient war machine, that established an empire by convincingly overwhelming its neighbors, sacrificing thousands to bloodthirsty gods along the way. From a contrasting perspective, its native warriors were no match for the modern warring methods of Cortes' greatly outnumbered Spaniards, who decisively defeated them. The reality of the Aztec warrior's ability and effectiveness lies somewhere between those two extremes, as this title makes clear. By examining the experiences of a hypothetical individual, Cuauhtli, this meticulously researched book shows that the history of Aztec warfare is much richer and far more complex than previously understood, and reveals the close relationship between social and military matters in Aztec society.
About the Author
Dr. John Pohl has conducted numerous archaeological excavations and surveys in Mexico and Central America as well as the Catalan region of southern France. Dr. Pohl is noted for bringing the ancient past to life using a wide variety of innovative skills and techniques ranging from museum exhibitions for Princeton University, the Getty, and the Los Angeles County Museum of Art to film productions for the History Channel, the Discovery Channel, the BBC and Dreamworks. In addition to his work in education through public media, he currently serves as Adjunct Full Professor in the Department of Art History at UCLA.
Advertisement