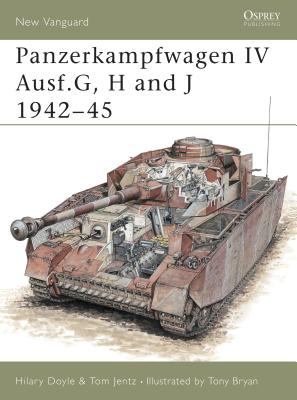 Panzerkampfwagen IV Ausf.G, H and J 1942-45 (Paperback)
Osprey Publishing (UK), 9781841761831, 48pp.
Publication Date: November 25, 2001
Description
The Panzerkampfwagen IV was one of the most numerous and successful German tanks of World War II. Despite the introduction of the Panther and Tiger tanks, the PzKpfw IV remained the backbone of the German armoured units until the end of the war. This book details all of the variants of the Panzerkampfwagen IV with the long guns 7.5cm KwK 40 L/43 and L/48. Until 1942 armed with a short 7.5cm KwK L/24, it was used primarily in an infantry support role. However with the upgrading to the long 7.5cm it became the main battle tank of the Panzer Divisions.
About the Author
Hilary Louis Doyle, born 1943, is an expert on German armoured vehicles and has written numerous books on AFV's including the Encylopedia of German Tanks. Hilary lives in Dublin with his wife and three children.Tom Jentz is one of the world's leading AFV researchers and is best known for the Encyclopaedia of GermanTanks. Tom lives in Maryland with his German wife and two children.
Praise For Panzerkampfwagen IV Ausf.G, H and J 1942-45…
"Overall this is a great little book packed with a lot of information. The quality of the materials, photographs, line drawings and color plates is excellent. It will be a helpful addition to anyone's reference library, especially those interested in the later models of the Pz.Kpfw. IV." - Scott Espin, Armorama (October 2009)
Advertisement