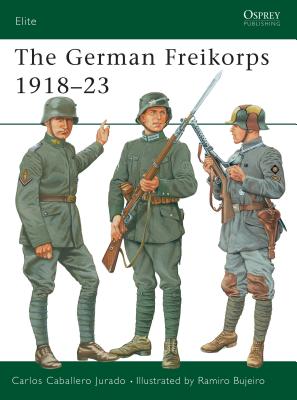 The German Freikorps 1918-23 (Paperback)
Osprey Publishing, 9781841761848, 64pp.
Publication Date: September 25, 2001
* Individual store prices may vary.
or
Not Currently Available for Direct Purchase
Description
Osprey's examination of German troops in the post-World War I (1914-1918) period. The troops returning home to Germany after the 1918 Armistice found their country riven by internal unrest, and its eastern borders threatened. Though reluctant to support the new Republic, the many Free Corps formed by ex-Imperial soldiers fought furiously against Communist revolutionaries at home and Polish and Bolshevik Russian pressure on the frontiers. Later providing much of the manpower for the new Reichswehr, the Free Corps would have strong links with the nascent Nazi Party. This concise account of a little-known but central episode in the history of 20th century Germany is illustrated with rare photographs, and ten colour plates showing unprecedented details of uniforms and insignia.
About the Author
Carlos Caballero Jurado was born in Ciudad Real, Spain, in 1957. He served as an NCO in the Spanish Army's Division Brunete (1st Armoured Division); and later graduated with a BA in History from the University of Alicante. He has written and co-written four Osprey titles; he is also the author of fourteen other books and numerous articles on military historical subjects, and his work has been translated into English and German.
Advertisement