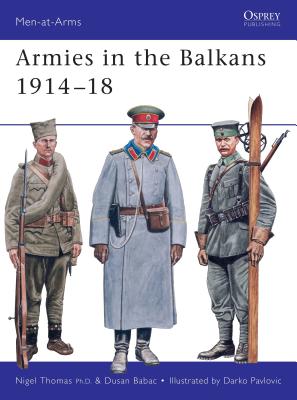 Armies in the Balkans 1914-18 (Paperback)
Osprey Publishing (UK), 9781841761947, 48pp.
Publication Date: July 25, 2001
Description
Recent history should remind us that it was events in the Balkans which sparked off World War I (1914-1918), with the assassination of the Austrian heir Prince Franz Ferdinand in Sarajevo, and the consequent invasion of Serbia by Austro-Hungarian armies on 2 August 1914. Nevertheless, the subsequent four-year war in that theatre is always overshadowed by the simultaneous campaigns on the Western Front. For the first time this book offers a concise account of these complex campaigns, the organisation, orders of battle, and the uniforms and insignia of the armies involved: Austro-Hungarian, German, Ottoman, Serbian, Montenegrin, Albanian, British, French, Italian, Russian, Bulgarian, Greek and Rumanian.
About the Author
DR. NIGEL THOMAS is an accomplished linguist and military historian and is currently a Senior Lecturer in charge of the Business Language Unit at the University of Northumbria, Newcastle. His interests are 20th century military and civil uniformed organizations, with a special interest in Germany, Central and Eastern Europe. He was recently awarded a PhD on the Eastern Enlargement of NATO. DUSAN BABAC is a postgraduate geological engineer, living in Belgrade. He has a strong interest in military history, particularly military uniforms, and is an acknowledged authority on Yugoslavia and Montenegro. He is an associate of the Military Mudeum and Serbian History Museum in Belgrade and has published widely in France, Japan, Russia and the states of former Yugoslavia. This is his first book for Osprey.
Advertisement