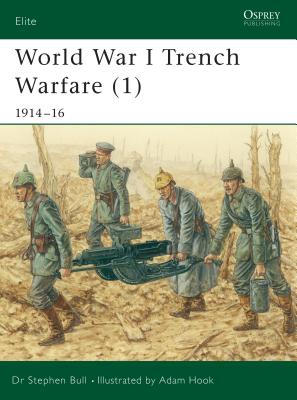 World War I Trench Warfare (1): 1914-16 (Paperback)
1914-16
Osprey Publishing (UK), 9781841761978, 64pp.
Publication Date: February 25, 2002
Description
Osprey's survey of trench warfare tactics of World War I (1914-1918). The regular armies which marched off to war in 1914 were composed of massed riflemen, screened by cavalry and supported by artillery; their leaders expected a quick and decisive outcome, achieved by sweeping manoeuvre, bold leadership and skill at arms. Eighteen months later the whole nature of field armies and their tactics had changed utterly. In sophisticated trench systems forming a battlefield a few miles wide and 400 miles long, conscript armies sheltered from massive long-range bombardment, wielding new weapons according to new tactical doctrines. This first of two richly illustrated studies explains in detail the specifics of that extraordinary transformation, complete with ten full colour plates of uniforms and equipment.
About the Author
Dr Stephen Bull is Curator of Military History and Archaeology at the Museum of Lancashire, and an extramural lecturer for Lancaster University. He has previously worked for the BBC in London, and at the National Army Museum. He is the author of a dozen military historical titles, and has recently been awarded an MBA.
Praise For World War I Trench Warfare (1): 1914-16…
"I've never been disappointed by any of the Osprey Elite Series of books and I certainly wasn't with this one. It rekindled an area of history for me I've always enjoyed... Has this book turned me into a WWI expert? No, it hasn't. Has it increased my knowledge of the era and refreshed an aging mind? Yes. Would I recommend this book to someone else? Without a doubt or second though about it, especially if they have the slightest interest in World War I and wished to increase their knowledge a little more." -Dave O'Meara, Historicus Forma (June 2005)
Advertisement