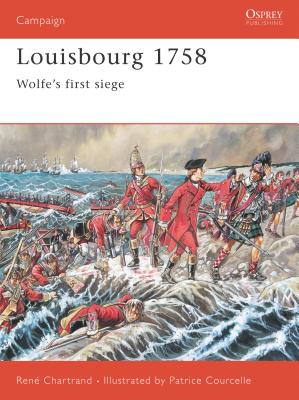 Louisbourg 1758: Wolfe's First Siege (Paperback)
Wolfe's First Siege
Osprey Publishing (UK), 9781841762173, 96pp.
Publication Date: December 25, 2000
Description
Osprey's study of James Wolfe's siege of Louisbourg during the French and Indian War (1754-1763). Louisbourg represented a major threat to Anglo-American plans to invade Canada. Bypassing it would leave an immensely powerful enemy base astride the Anglo-American lines of communication - Louisbourg had to be taken. Faced with strong beach defences and rough weather, it took six days to land the troops, and it was only due to a stroke of daring on the part of a young brigadier named James Wolfe, who managed to turn the French beach position, that this was achieved. The story is largely based on firsthand accounts from the journals of several participants, including French Governor Drucour's, whose excellent account has never been published.
About the Author
Rene Chartrand was born in Montreal. A senior curator with Canada's National Historic Sites for nearly three decades, he is now a freelance writer and historical consultant. He has written numerous articles and books including over 30 Osprey titles. He lives in Gatineau, Quebec, with his wife and two sons.
Advertisement