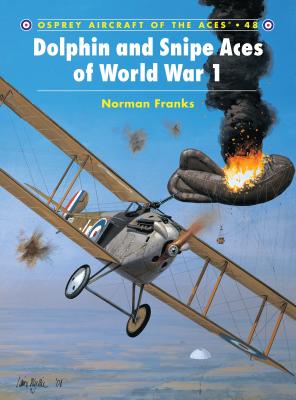 Dolphin and Snipe Aces of World War 1 (Paperback)
Osprey Publishing (UK), 9781841763170, 96pp.
Publication Date: May 12, 2002
Description
This book focuses on the combat careers of the last of the famous Sopwith fighters to enter service during World War 1, the Dolphin and the Snipe, both of which were built on the strong scouting heritage of the Pup and Camel. The Dolphin featured the unique negative-staggered biplane wing arrangement, which provided the pilot with the best possible tactical view forward for seeking out his enemy. Used extensively on the Western Front, the Dolphin proved very effective in combat, with a substantial number of British aces scoring kills with the fighter. The Snipe was built as the successor of the highly successful Camel, and entered service with the fledgling Royal Air Force in the summer of 1918. Although seeing just a few months of action before the Armistice, the Snipe nevertheless proved its superiority over virtually all other fighters.
About the Author
Norman Franks is one of the world's leading authorities on World War 1 fighter aviation, having published some of the seminal works on the subject. This is his fourth volume on World War 1 aces for Osprey, having written volume 32 'Albatros Aces of World War I' and 33 'Nieuport Aces of World War I' in 2000 and co-authored volume 40 'Fokker Dr I Aces of World War I' in 2001.
Praise For Dolphin and Snipe Aces of World War 1…
"Owing to the specialized market, it's safe to say that there will never be another book on this subject. Therefore, Norman Franks' volume on Dolphin and Snipe aces will remain the definitive treatment of the aces who flew the relatively obscure Sopwith fighters... Nearly 110 photos provide a rare look at the Dolphin, including 15 of the Snipe. The selection is excellent, being well balanced between aircraft and airmen, while the overall quality is good. Modelers will savor Harry Dempsey's
36 color profiles of Dolphins and four Snipes, many with "up close" details. If there's only going to be one book on this subject, Great War aerophiles are fortunate that it was compiled by Norman Franks. Our rating: five stars." -Barrett Tillman, Aerodrome
Advertisement