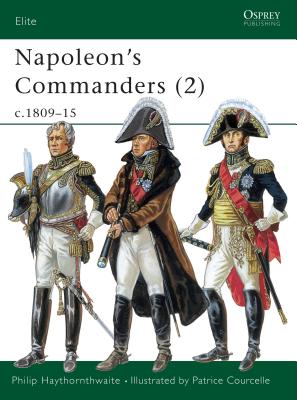 Napoleon's Commanders (2) (Paperback)
c.1809–15 (Elite)
Osprey Publishing, 9781841763453, 64pp.
Publication Date: April 25, 2002
* Individual store prices may vary.
Description
Osprey's examination of commanders of the Napoleonic Wars (1799-1815). On the Napoleonic battlefield victory or defeat could still depend on the skills, reactions and personalities of individual commanders. Even under a genius such as Napoleon the dispersal of his armies on campaign, and the lack of fast communications, left command and control of the different corps and divisions in the hands of his marshals and generals. This second in a pair of Elite titles describes in concise but colourful detail the careers and personalities of more than two dozen of Napoleon's leading subordinate commanders in the armies of the later Empire, from c1809 to the Hundred Days campaign of 1815. Their individual appearance, and the typical uniforms of a variety of staff officers, are reconstructed in 12 dazzling colour plates.
About the Author
Philip Haythornthwaite is an internationally respected author and historical consultant specialising in the military history, uniforms and equipment of the 18th and 19th centuries. His main area of research covers the Napoleonic Wars. He has written some 40 books, including more than 20 Osprey titles, and innumerable articles and papers on military history - but still finds time to indulge in his other great passion - cricket.
or
Not Currently Available for Direct Purchase