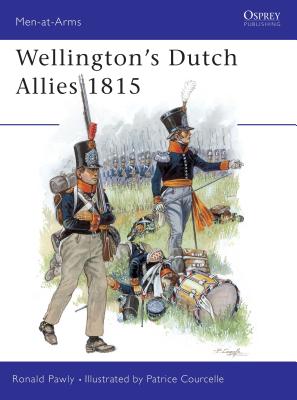 Wellington's Dutch Allies 1815 (Paperback)
Osprey Publishing, 9781841763934, 48pp.
Publication Date: July 25, 2002
* Individual store prices may vary.
or
Not Currently Available for Direct Purchase
Description
The forces commanded by the Duke of Wellington at Quatre-Bras and Waterloo included two infantry divisions and three cavalry brigades of the newly unified ('Dutch-Belgian') army of the Kingdom of the Netherlands, mostly led by veteran officers who had served under Napoleon during the Napoleonic Wars (1799-1815). The part played by these troops - particularly in holding the vital crossroads of Quatre-Bras, at the insistence of their own commanders - has often been unjustly dismissed by British commentators. In this book the history, organisation, uniforms and battle record of the Dutch units of this army are explained and illustrated in detail by two experienced researchers in Continental archives, and illustrated with many rare portraits as well as meticulous colour plates.
About the Author
Ronald Pawly, born in Antwerp, Belgium, and still living and working in that city, is a member of several Napoleonic societies and an expert on 19th century military portraiture. He is the author of the monumental The Red Lancers: Anatomy of a Napoleonic Regiment (Crowood Press, 1998), and a contributor to two major French reference works, Repertoire Mondiale des Souvenirs Napoleoniens and Dictionnaire des Colonels de Napoleon. He has previously written MAA 355, Wellington's Belgian Allies 1815.
Advertisement