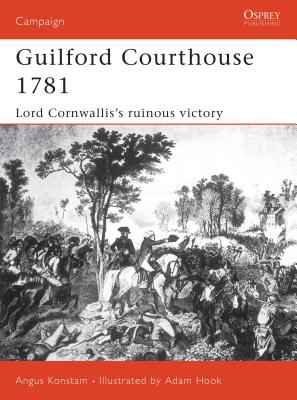 Guilford Courthouse 1781: Lord Cornwallis's Ruinous Victory (Paperback)
Lord Cornwallis's Ruinous Victory
Osprey Publishing, 9781841764115, 96pp.
Publication Date: June 25, 2002
* Individual store prices may vary.
or
Not Currently Available for Direct Purchase
Description
By the Spring of 1781, the American Revolutionary War (1775 1783) had dragged on for almost six years and the outcome still hung in the balance. When the British commander Lord Cornwallis launched his invasion of North Carolina in early 1781, his objective was to destroy General Nathaniel Greene's American army. At Guilford Courthouse on 15 March 1781 the two armies met. In a desperately hard-fought battle the small but professional British army succeeded in fighting its way through three separate lines of American troops but at a dreadful cost. Cornwallis lost over a quarter of his command. When news of the 'victory' reached Britain, a politician remarked; 'Another such victory would ruin the British army'.
About the Author
Angus Konstam hails from the Orkney Islands and is the author of over 15 books, many of which are published by Osprey. His maritime titles include Elite 67: 'Pirates 1660-1730', Elite 69: 'Buccaneers 1620-1700' and Elite 70: 'Elizabethan Sea Dogs 1560-1605'. Formerly the Curator of Weapons in the Royal Armouries at the Tower of London, he also served as the Chief Curator of the Mel Fisher Maritime Museum in Key West, Florida. He is now based in London, where he combines a freelance museum consultancy business with a career as a historian and writer.
Advertisement