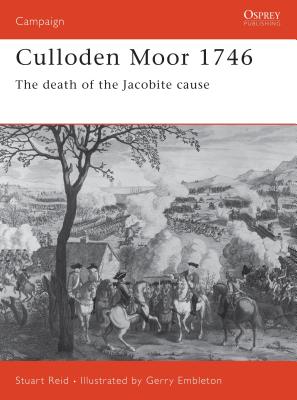 Culloden Moor 1746: The Death of the Jacobite Cause (Paperback)
The Death of the Jacobite Cause
Osprey Publishing (UK), 9781841764122, 96pp.
Publication Date: August 19, 2002
Description
Osprey's study of the most important battle of the Jacobite Risings (1688-1746). The final demise of Jacobitism amid the slaughter of the Highland clans on a cold and damp Culloden Moor in April 1746 is undoubtedly one of the most famous battles in British military history. It has also been, until recently, one of the least understood from both a military and political perspective. In this modern and highly detailed account, this book combines a thorough understanding of 18th century tactics, an intimate knowledge of the battlefield itself and a scandalously underused archive of contemporary material from both sides to provide a detailed, accurate and dramatic account of this controversial battle.
About the Author
Stuart Reid was born in Aberdeen 1954 and is married with one son. He has worked as a librarian and a professional soldier and his main focus of interest lies in the 18th and 19th centuries. This interest stems from having ancestors who served in the British Army and the East India Company and who fought at Culloden, Bunker Hill and even in the Texas Revolution. His previous works for Osprey include the highly acclaimed titles about King George's Army 1740-93 (Men-at-Arms 285, 289 and 292) and the British Redcoat 1740-1815 (Warriors 19 and 20).
Advertisement