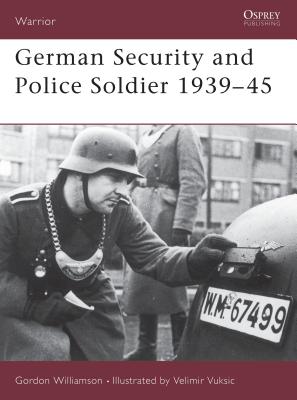 German Security and Police Soldier 1939 45 (Paperback)
Osprey Publishing (UK), 9781841764160, 64pp.
Publication Date: November 13, 2002
Description
The security units of the Third Reich were many and diverse, yet often an oversimplified view is projected of these organisations. This title provides a detailed and informed picture of the variety of operations and duties, as well as the motivation and behaviour of the men involved. It charts the experiences of typical World War II security forces and police soldiers - from the routine of military traffic duty, to combating partisans and resistance fighters. It covers the military police of the Armed Forces proper and the Waffen-SS, the combat units of the German State Police, the SD Sicherheitsdienst, the Schutzmannschaft' units, and the extreme and dreaded anti-partisan units 'Dirlewanger' and 'Kaminski'.
About the Author
Gordon Williamson was born in 1951 and currently works for the Scottish Land Register. He spent seven years with the military Police TA and has published a number of books and articles on the decorations of the Third Reich and their winners. He is author of a number of World War II titles for Osprey.
Advertisement