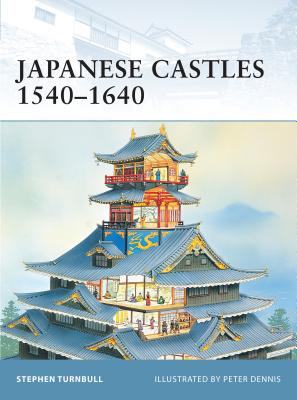 Japanese Castles 1540-1640 (Paperback)
Osprey Publishing (UK), 9781841764290, 64pp.
Publication Date: April 20, 2003
* Individual store prices may vary.
or
Not Currently Available for Direct Purchase
Description
The landscape of 16th- and 17th-century Japan was dominated by the graceful and imposing castles constructed by the powerful 'daimyo' of the period. In this the most turbulent era in Japanese history, these militarily sophisticated structures provided strongholds for the consolidation and control of territory, and inevitably they became the focus for many of the great sieges of Japanese history: Nagashino (1575), Kitanosho (1583), Odawara (1590), Fushimi (1600), Osaka (1615) and Hara (1638), the last of the battles that brought an end to a period of intense civil war. This title traces their development from the earliest timber stockades to the immense structures that dominated the great centres of Osaka and Edo.
About the Author
Stephen Turnbull is the world's leading English language authority on medieval Japan and the samurai. He has travelled extensively in the far east, particularly in Japan and Korea and is the author of 'The Samurai - A Military History' and numerous Osprey books including Men-at-Arms 86: 'Samurai Armies 1550-1615', Campaign 69: 'Nagashino 1575' and Warrior 29: 'Ashigaru 1467-1649'.
Advertisement