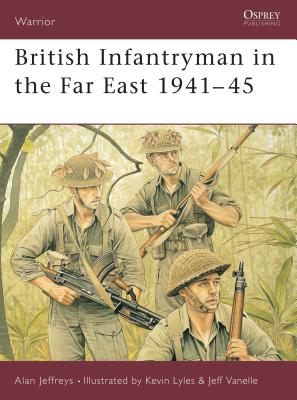 British Infantryman in the Far East 1941-45 (Paperback)
Osprey Publishing (UK), 9781841764481, 64pp.
Publication Date: April 20, 2003
Description
This title focuses on the experience, tactics, training and weapons of the British soldier from the Fall of Malaya and Singapore until the Reconquest of Burma during World War II (1939-1945). It takes a close look at jungle warfare training in India and the ensuing action in Burma, tracing the development of tactics and doctrine: this formed the basis for the victories in the Arakan and the battles of Kohima and Imphal. The soldier's view of India, the entertainment available on leave, food rationing and other supplies such as cigarettes, the introduction of the forces newspaper SEAC, and the medical problems of malaria are all explored in detail.
About the Author
Alan Jeffreys is a Head of Collection at the Imperial War Museum in London, UK. His MPhil dissertation taken at the Department of War Studies, Kings College London, studied the development of jungle warfare training and tactics in Africa and the Far East. Alan is also a consultant to the Land Mine Group, and this has enabled him to visit many areas of conflict in the world. His other areas of interest include the Indian Army, and gunner and artillery tactics in World War I.
Advertisement