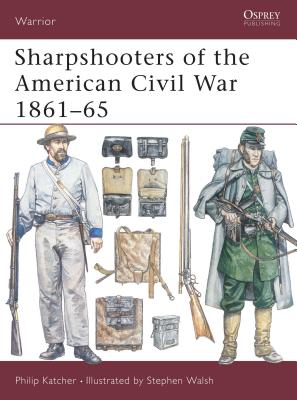 Sharpshooters of the American Civil War 1861 65 (Paperback)
Osprey Publishing (UK), 9781841764634, 64pp.
Publication Date: October 18, 2002
Description
When the American Civil War (1861-1865) broke out, both Confederate and Union experts decided that specialized sharpshooter units should be formed. These highly trained marksmen served in a front-line role and, due to the technological developments of the 1850s, were equipped with weapons that could guarantee greater accuracy over increased range than traditional muskets. This title examines the recruitment, training, tactics and deployment of sharpshooters from both sides of the conflict. It also takes a close look at the specialized personal weaponry of the sharpshooter, the rifle and its accoutrements, as well as the sharpshooters' unique insignia and identification patches.
About the Author
Philip Katcher served in the U.S. Army in Vietnam. He is the author of over 30 books in the field of American military history, and was named a Fellow of the Company of Military Historians for his work on the Vietnam conflict. He is also a member of the living history Civil War unit, serving with Huckstep's First Fluvanna Battery/24th New York Light Artillery.
Advertisement