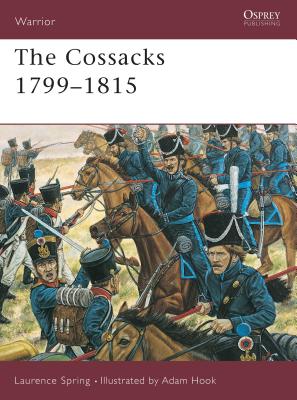 The Cossacks 1799-1815 (Paperback)
Osprey Publishing (UK), 9781841764641, 64pp.
Publication Date: March 19, 2003
* Individual store prices may vary.
or
Not Currently Available for Direct Purchase
Description
During the Napoleonic Wars (1799-1815), the Cossacks were Russia's unique and plentiful supply of irregular cavalry. They were employed as skirmishers, raiders and scouts, and their tactics of harassment and harrying caused great problems for Napoleon's Grand ArmEe as it retreated through Russia in 1812. This title shows how, although labelled as rapacious, lascivious, mercenary and ill-disciplined on the field by their detractors, they laid claim to being the finest light cavalry in Europe. This book also details the various tribes that made up the Cossack nation, the social structure of Cossack life, and how they were organised and employed in war.
About the Author
Laurence Spring holds a degree in History from London University, and is the co-ordinator of the Russian Army Study Group, an organisation with a world-wide membership. He is currently translating A V Viskovatov's seminal Historical Description of the Clothing and Arms of the Russian Army, which will be published by the Group. He has also written books on the English Civil War, and numerous articles for magazines. Laurence currently works at the Surrey History Centre, formerly the Surrey Record Office, UK.
Advertisement