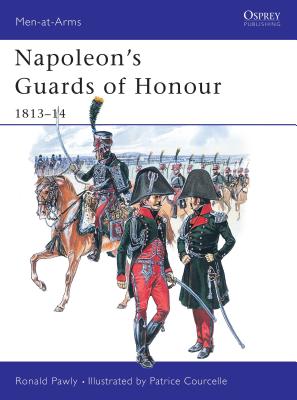 Napoleon's Guards of Honour: 1813-14 (Paperback)
1813-14
Osprey Publishing (UK), 9781841764887, 48pp.
Publication Date: November 13, 2002
* Individual store prices may vary.
or
Not Currently Available for Direct Purchase
Description
One of the least understood of Napoleon's corps were the four regiments of Gardes d'honneur, raised in 1813 during the frantic rebuilding of the French cavalry after the huge losses in Russia. Recruited from the leading social classes, uniformed and equipped at their own expense, and accompanied by servants to take care of such unpleasant chores as stable duty, these men were promised commissions as officers after a year's service in the ranks. Though spectacularly unready for combat upon their arrival with the army, the Guards of Honour would gain skill and confidence while serving alongside the elite cavalry of the Imperial Guard in the campaigns of Saxony and France, 1813-14, and distinguished themselves in battle at Hanau and Rheims. The story of their organisation, uniforms and service during the Napoleonic Wars (1799-1815) is researched from rare archives and memoirs, and illustrated with portraits, surviving uniform items, and meticulous colour plates.
About the Author
Ronald Pawly, born in Antwerp, Belgium, in 1956 and still living and working in that city, is a respected member of several international societies for Napoleonic studies, and an expert on 19th century military portraiture. He is the author of the monumental The Red Lancers: Anatomy of a Napoleonic Regiment (Crowood Press, 1998), and of a study of Napoleonic veterans' tombs in Belgium. He has previously written Men-at-Arms 355: Wellington's Belgian Allies 1815 and Men-at-Arms 371: Wellington's Dutch Allies 1815 for Osprey.
Advertisement