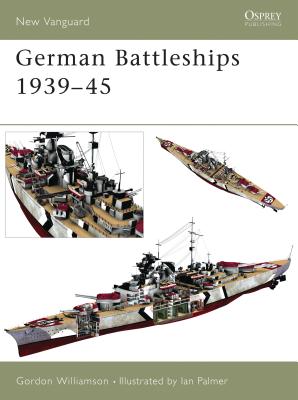 German Battleships 1939-45 (Paperback)
Osprey Publishing (UK), 9781841764986, 48pp.
Publication Date: March 11, 2003
Description
In this, the first of a five volume series covering the capital ships of the German Navy of World War II, Gordon Williamson examines the design, development and operational use of the battleships used by the Kriegsmarine. The 'Schlesien' and 'Schleswig-Hostein' were used mostly as training ships until the end of the war when they took part in bombardment of Soviet troop movements in East Prussia. The 'Scharnhorst' had a successful career until her sinking at the battle of the North Cape, and the 'Gneisenau' with her ignominious end as a block-ship. Bismarck's short but glorious career and Tirpitz's lonely vigil in Norway's distant Fjords until sunk by RAF bombers using the massive 'Tallboy' bombs are also covered.
About the Author
Gordon Williamson was born in 1951 and currently works for the Scottish Land Register. He spent seven years with the military Police TA and has published a number of books and articles on the decorations of the Third Reich and their winners. He is author of a number of World War II titles for Osprey.
Advertisement