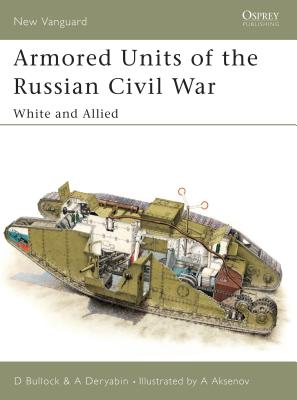 Armored Units of the Russian Civil War: White and Allied (Paperback)
White and Allied
Osprey Publishing (UK), 9781841765440, 48pp.
Publication Date: December 17, 2003
* Individual store prices may vary.
or
Not Currently Available for Direct Purchase
Description
One of the most important conflicts of the 20th century, the Russian Civil War was the struggle that led to the formation of the Soviet Union. Following the overthrow of the Russian Provisional Government on 7 November 1917, the All-Russian Congress of Soviets met and handed over power to the Soviet Council of People's Commissars. Immediately forces began to assemble in opposition to the Bolshevik regime, and these became known as the Whites. This title examines the armour that they had at their disposal throughout the course of the war. It was a varied collection including British and French vehicles and, perhaps most famously, the armoured trains that enabled the Whites to dominate much of Siberia.
About the Author
Dr David Bullock has a PhD in European Military History. Previously an officer in the US Airforce, he now works as an historian for the Department of Defense and an Associate Professor at Colorado Technical University. He has published one book and over 60 articles on military history, travelling in over 40 countries, including Russia, to do his research.ALEXANDER DERYABIN graduated from Moscow State Historical Archival Institute in 1982 and worked for ten years at the Institute of Military History, Military of Defense. Born in 1961 and a resident of Moscow, he has published numerous books in Russian about the uniforms and history of the Russian Civil War. He contributed substantial material to Osprey's first two books about the Russian Civil War.
Praise For Armored Units of the Russian Civil War: White and Allied…
"Osprey's books on armored trains and units of the Russian Civil War (RCW) are simply awesome. The Armored Units books have information about each side's tanks, armored cars and train information... [and] discuss all of the armored vehicles... used by the Whites and Reds during the RCW... The information in these books is incredible; the photos provide invaluable information to allow gamers to construct or convert vehicles or additions to trains to suit their wargaming needs." -Michael Koznarsky, Historical Miniature Gamer (Issue 11)

"Very few books have been written, even in Russian, on armor in the Russian Civil War. This book, along with its companion volume from Osprey, David Bullock's Armored Units of the Russian Civil War: White and Allied, shed much new light on an overlooked phase in the development of armored fighting vehicles." -Military Vehicles
Advertisement