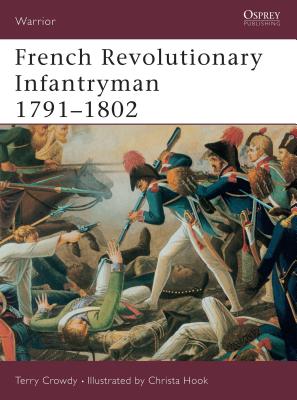 French Revolutionary Infantryman 1791-1802 (Paperback)
Osprey Publishing (UK), 9781841765525, 64pp.
Publication Date: January 15, 2003
* Individual store prices may vary.
or
Not Currently Available for Direct Purchase
Description
This title, a prequel to Warrior 57 French Napoleonic Infantryman 1803-15, concentrates on the period from the storming of the Bastille in 1789 until Bonaparte's election as Consul for Life in 1802. The meticulously researched text provides an authentic portrait of military life during the Revolution and beyond, with excellent use of contemporary sources, including many illuminating and vivid quotations from the memoirs and letters of those who served during the 'Wars of Liberty'. It follows typical volunteers of 1791, through the early stages of the war, the Civil War in the west of France and into Bonaparte's second Italian campaign, culminating in the Battle of Marengo in 1800.
About the Author
Terry Crowdy was born in London in 1970. Initially a re-enactor, his interest in the Revolutionary and Napoleonic Wars led to writing for specialist magazines. Having assisted with Campaign 70 Marengo, his first Osprey title was Warrior 57 French Napoleonic Infantryman (1803-1815). He is currently researching several projects for Osprey in addition to studies on espionage during the Marengo Campaign and a history of the 'Incomparable' 9e Legere.
Advertisement