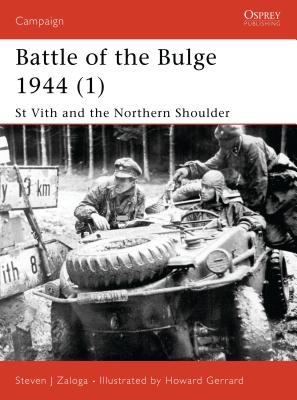 Battle of the Bulge 1944 (1): St Vith and the Northern Shoulder (Paperback)
St Vith and the Northern Shoulder
Osprey Publishing (UK), 9781841765600, 96pp.
Publication Date: January 15, 2003
Description
Osprey's first title examining the Battle of the Bulge, which was the largest and most costly battle fought by the US Army in World War II (1939-1945). The Ardennes fighting was Hitler's last gamble on the Western Front, crippling the Wehrmacht for the remainder of the war. In the first of two volumes on the Ardennes campaign Steven Zaloga details the fighting in the northern sector around St Vith and the Elsenborn Ridge. Sixth Panzer Army, containing the bulk of German Panzer strength, was expected to achieve the breakthrough here. It was the failure around St Vith that forced the Germans to look south towards Bastogne.
About the Author
Steven J. Zaloga received degrees in history from Union College and Columbia University. He has written several dozen books on military history and technology. He is a senior analyst with Teal Group Corp., an aerospace research firm, and serves as an adjunct staff with the Strategy, Forces, and Resources Division of the Institute for Defense Analyses.
Advertisement