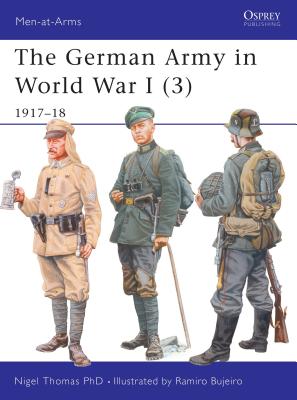 The German Army in World War I (3): 1917-18 (Paperback)
1917-18
Osprey Publishing (UK), 9781841765679, 48pp.
Publication Date: November 11, 2004
Description
This third volume of a mini-series covering the German forces in World War I (1914-1918) examines the troops that fought during the climax of the war on all fronts: the last great battles of attrition in the West (Arras, Messines, 3rd Ypres - Passchendaele/Langemarck - and Cambrai, 1917) and the collapse of Russia in the East. The 'Kaiserschlacht' campaign is covered, as are the German operations in Italy, the Balkans, and in support of Turkey in the Middle East. Uniform changes during this period reflected the introduction of new tactics and weapons and new types of troops, such as tanks and assault battalions.
About the Author
Dr Nigel Thomas is an accomplished linguist and military historian and is currently a Senior Lecturer in charge of the Business Language Unit at the University of Northumbria, Newcastle. His interests are 20th century military and civil uniformed organisations, with a special interest in Germany, Central and Eastern Europe. He was recently awarded a PhD on the Eastern Enlargement of NATO.
Praise For The German Army in World War I (3): 1917-18…
"...beautifully illustrated and the eight color plates show off a variety of WWI uniforms/equipment that are appropriate for armies that fought in the RCW...fills a very necessary spot in my wargaming library... As always, Osprey books form the first line of any 'attack' on a new period of study!" -HMG Reviewing Stand
Advertisement