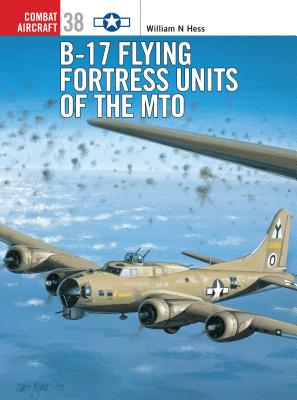 B-17 Flying Fortress Units of the MTO (Combat Aircraft) (Paperback)
Osprey Publishing, 9781841765808, 96pp.
Publication Date: January 25, 2003
* Individual store prices may vary.
Description
Osprey's study of the B-17 Flying Fortress Units of World War II (1939-1945). Although the Fifteenth Air Force was dismissed as 'minor leaguers' by the Eighth Air Force, strategic bombers from this outfit had done a 'major league' job on Axis targets in southern Europe following its formation in Italy in November 1943. And the heavy bombers employed by the Fifteenth were of course the venerable B-17 and B-24. At its peak strength, the Fifteenth's B-17 force comprised six groups of four squadrons each, all controlled by the 5th Bomb Wing. Having been a part of the Fifteenth Air Force in 1944, author Bill Hess has long been waiting to write a definitive account on 'his air force'.
About the Author
William Hess is the official historian for the American Fighter Aces Association, and is one of the most highly respected aviation writers of his generation. A B-17 crewman during World War 2, Hess has written over 40 books during his long and distinguished career. This is his third title for Osprey.