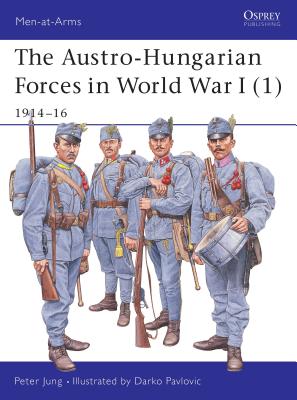 The Austro-Hungarian Forces in World War I (1): 1914-16 (Paperback)
1914-16
Osprey Publishing (UK), 9781841765945, 48pp.
Publication Date: May 20, 2003
Description
The part played in World War I (1914-1918) by the army of the Austro-Hungarian Dual Monarchy is little known to English-speakers, perhaps because the end of the war saw the complete destruction of the Empire. Yet it was of central importance, providing nearly all Central Powers forces on the Italian front, huge numbers on the Russian front, seven Army Corps in the Balkans - and even a little-known contingent in Turkey and Palestine. The first half of the story of this complex multi-national organization at war is described here in a concise but detailed text, supported by data tables and an insignia chart, and illustrated with rare photographs and colourful uniform plates.
About the Author
Dr Peter Jung was born in 1955 and attended the University of Vienna where he obtained a Doctorate in History. He started working for the Austrian State Archives/War Archives in 1981 and was the head of three departments there. He has written a number of books and articles including Die Feldverwendung der Osterreichisch - Ungarischen Gendarmerie 1914/18 and L'ultimo Guerra degli Asburgo, Carso-Basso Isonzo-Trieste. Sadly Peter passed away in April 2003.
Praise For The Austro-Hungarian Forces in World War I (1): 1914-16…
"...beautifully illustrated and the eight color plates show off a variety of WWI uniforms/equipment that are appropriate for armies that fought in the RCW...fills a very necessary spot in my wargaming library... As always, Osprey books form the first line of any 'attack' on a new period of study!" -HMG Reviewing Stand
Advertisement